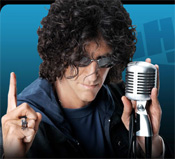 Yesterday we broke the news that Sirius XM had emerged victorious in the lawsuit filed by Howard Stern and his agent Don Buchwald.  The Judge in the matter, Barbara Kapnick, ruled in favor of Sirius XM's request for summary judgment and dismissed the case with prejudice.  Contrary to rumors circling the Internet, Stern can, and it appears will, appeal the case.
On his Sirius XM radio show Tuesday morning Stern addressed the matter by saying that he was "bummed" with the judges decision and "wanted his day in court to argue his side because he is "certain he is right."  Stern stated that he consulted his attorney and that council advised him that "many Kapnick decisions are overturned in a higher court."  Stern vowed that he will appeal the decision and fight this matter until resolved.
While the cloud of the lawsuit has been removed, a new but smaller cloud will return when Stern and his agent appeal the case.  Because the case has not yet made it to courtroom debate, interesting days could still lay ahead.  The initial victory by Sirius XM stopped a downward slide, sent the stock up 3%, stopped and helped establish a new level of support for the equity.  SiriusBuzz readers invested in SIRI got a heads-up to the issue, and savvy investors took advantage.
Now it is time for another heads-up.  In the coming days the Stern appeal will likely be filed, creating yet another news item that the street may react to.  Depending on how "stern" the Stern appeal is, the newswires may frame the issue as a negative to the stock.  Rest assured analysts will be seeking out legal opinion on the matter and the Stearn suit may be the subject of press reporting as the company heads into their earnings call on May 1st.
If nothing else, the news on this suit has served to spark interest in Stern as well as Sirius XM.  Stern has said that he has no animosity for the company that employs him, but we will see how things play out as the main stream press coverage catches up to the news.  With Stern acting as a judge on televisions America's Got Talent, all things Stern will be hitting the wires soon.
The bottom line is that the first chapter in the Stern vs. Sirius XM drama has been closed and the second chapter may prove even more interesting both from a fan and investor standpoint.  It can certainly be argued that the removal of a lawsuit cloud can bolster the equity and make the company more valuable to Liberty Media (NASDAQ:LMCA) which holds a 40% stake in Sirius XM and is possibly looking to increase that stake.  Do not underestimate this news, in fact only a fool would downplay this event.  It set support levels and was potentially worth hundreds of millions of dollars.