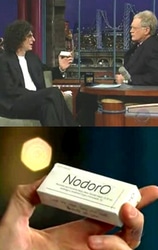 Like him or hate him, there is little doubt that Howard Stern has a large and dedicated audience, and he wields a huge influence. This past week Stern appeared on the David Letterman Show. Sterns appearances typically create large audiences for the Late Show as they are promoted on Sterns radio show on Sirius, as well as loved by Late Show viewers. This last appearance was no different, and one newly launched company will be forever grateful the Stern is Stern, because he promoted their product on the show. The press release from NodorO is interesting to say the least, and represents classic Howard Stern
PRESS RELEASE
Miami, FL (PRWEB) January 12, 2008 -- Howard Stern Discusses Male Genital Odors with David Letterman on the Late Show by Introducing NodorO™. A safe and effective OTC (Over The Counter) medicated cream that removes and prevents Male Genital Odors. Stern appeared on the Late Show last Thursday to promote Sirius Satellite Radio. When discussing his move to Sirius, Stern mentioned how free of a medium it has been, and also how this medium attracts unconventional sponsors such as NodorO™ and he proceeded by handing out a box of NodorO™ to Letterman.
President/CEO of Synerfied Healthcare and NodorO™ creator Dominic Adams recently launched his new product on January 4th, 2008. Adams was amazed when he realized that NodorO™ was being discussed on the Late Show with David Letterman. "It is very much like a dream come true. This is the ultimate promotion scenario imaginable. Let's recap: Less than a week after the launch, Howard Stern goes on the Late Show with David Letterman, and introduces NodorO™ to the world. Oh, and by the way... He did it on his own. It doesn't get better than this!" says Adams with excitement.
Adams hopes that NodorO™ will be known around the world as the first and original medicated cream to remove Male Genital Odors (MGO) so that he can help men everywhere. MGO affects men of different ages. It is more likely to occur to men who are not circumcised, due to the moist environment between the foreskin and the glans, which is a favorable ground for development of fungi cells. NodorO™ targets the micro-fungi called tinea corporis. However, MGO can also happen to men who are circumcised.
Unlike other products such as scented oils and perfumes, NodorO™ does not mask or cover up the smell; it kills, destroys, removes and prevents odors. "Men have had to deal with this problem for centuries, and women had to deal with their partners having MGO. This subject has been taboo for the longest time," says Adams.
Amongst other means of advertisement, Adams chose to put most of his efforts on "The Howard Stern" radio program on Sirius Satellite radio: "There is no one better to get the word out and to create a buzz than Howard Stern." Adams has always believed in Stern's ability to sell, especially when he moved to satellite radio. Once Adams heard of his move to Satellite, he went ahead and purchased stocks of Sirius Satellite Radio (SIRI) back in 2004, and is still currently a stock holder since.
"It was so obvious to me that Satellite Radio is the future. I have 2 subscriptions and it's a matter of time before every single car and homes have one. It's the same as what used to be cassette players. Every car had one, then everything upgraded to compact disks, and very soon Satellite Radio. Even iPods to me are somewhat out dated. You mean, I have to upload my own content? And then I have to update it if I want new music? No thanks, I'll focus on turning on a switch and enjoying my entertainment and music right away," says Adams.
Adams plans on using the Satellite Radio platform for advertisement for many years to come to promote NodorO™ if the product succeeds in the marketplace, and is looking forward to the XM-Sirius merger, so he can reach a wider audience.
Adams on the merger: "How this merger has not occurred yet is beyond me. When people are sitting in their car, they are faced with a choice: Am I going to listen to Howard this morning or the local terrestrial radio program? These two mediums are clearly competing against each other. If 8.3 million people choose the Stern Show, terrestrial radio has smaller ratings and loses advertisement revenues. Secondly, holding back the merger is affecting the consumers. I could be enjoying double the content, with one service. If I want to hear Oprah in my car, I'm being forced to subscribe to a second service instead of having just one, that is all inclusive," says Adams.
NodorO™ is proudly manufactured in the United-States.
NodorO™ is available for ordering on our website at: ismellperfect.com
Tyler Savery Position - Long Sirius