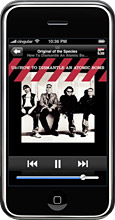 Investors and consumers of satellite radio are anxiously awaiting the Sirius XM iPhone application. Talk of a relationship with Apple has been on the minds of satellite radio fans for years. Each year as the MacWorld event approached, speculation would arise about a possible announcement of a great new partnership between Apple and either Sirius or XM, and each year, satellite radio fans would be disappointed.
Finally, Sirius XM is going to be launching an iPhone application. There is a lot of speculation about what this will mean for consumers as well as investors. With a weak OEM channel, and a sluggish economy, there is potentially a lot riding on this soon to be launched application.
Properly marketed, this application can help the bottom line in many ways. However, in this economy, even the best marketing plans are challenged when it comes to separating a consumer from their dollars. Thus, what can Sirius XM do to ensure massive exposure with this application? How can they make sure that as many people as possible get exposed to the service? Perhaps the best way is the simplest...
Give It Away For Free
I know the consumers are happy with that, but the investors may well be scratching their heads. Let's consider the OEM model of attracting subscribers. When a consumer buys a car, they get 3 months of satellite radio free. Why not offer a free three month trial for the iPhone application?
Yes, it will push off potential revenue for a few months, and will have costs because of royalties, but free will bring many more people into the door than trying to sell a subscription, and at this point getting the most exposure is probably the most important factor. In addition, the "free" strategy does not have to go on in perpetuity. If it does not deliver results, the company can go back to the standard model.
As we are already aware, services such as Pandora, Slacker, and IheartRadio are among the most popular application downloads. Just the simple fact that these downloads are popular gives these companies added exposure on the web, and generates more downloads. With my Blackberry, I always refer to the "popular" applications, and oft download them. Users of the iPhone are no different. By offering three free months, Sirius XM will get their share of that "popular" page.
Services such as Slacker and Pandora are competing for the same listeners and fans. If Sirius XM is able to demonstrate that they offer something that those services can't, in the form of live content, news, sports, and talk, they will be able to demonstrate to the consumer why there is value in getting a subscription.
Part of the business model for Internet radio services is the "up-sale". They get you using the free portion of the service and liking it. You then get "up-sold" to getting a subscription for even more benefits. The key to accomplishing an "up-sale" is having a customer in the first place. This is why a three month free promotion may be the best way for Sirius XM to market their service. They can get the customers in the door via the free promotion, and then up-sell them to a full subscription. Even if the take rate is 30% (as compared to an OEM take rate of 45%), it will be a substantial boost to the company going forward, because aside from more expensive royalties, the costs associated with the application are much more cash flow friendly.
Whether Sirius XM has this in mind for their launch of the iPhone application is unknown. What is known is that they need to make a splash with this from BOTH a consumer as well as investors perspective. Look for the iPhone application to be launched in Early June.
Position: Long Sirius XM Radio, No Position Apple.