Last week I penned an article about Hertz buying Dollar - Thrifty, and highlighted some of the potential benefits it could bring to Sirius XM over time. One point in mt theory was that Hertz promotes Sirius XM because they gain revenue from the company.
As a member of Hertz #1 Club Gold, and virtually every other car rental's programs, I often get e-mails promoting special deals and offers. Today, Hertz sent an e-mail promoting Sirius XM Radio. The program is simple. TURN ON - TUNE IN - TAKE OFF. As an investor in the company, I always like to see the company being promoted in as many avenues as possible. This offer promises two free days of satellite radio.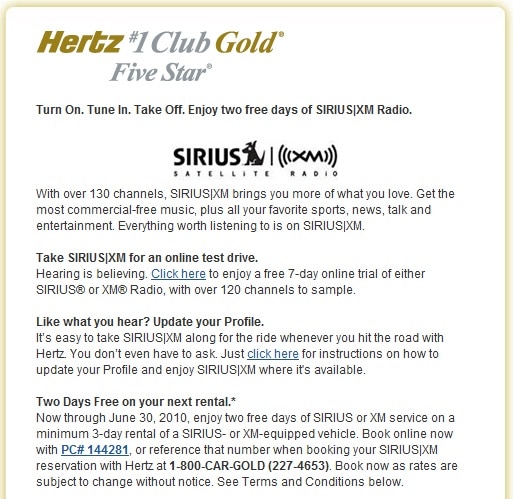 The program is simple. Expose people to Sirius XM Radio, and get them to change the preferences in their #1 Club Gold profile. Future rentals will come with satellite radio at the normal fee. My profile, of course, already includes a preference for satellite radio. Perhaps with a special like this, the company can get frequent renters to experience satellite radio for a couple of days, and hopefully allow these renters to see the value and benefit of having Sirius XM Radio.
Want to learn more? Tune in to SiriusBuzz Radio tonight at 9:00 PM Eastern.
Position - Long Sirius XM Radio