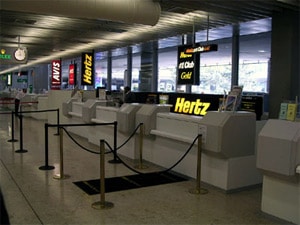 Hertz will buy Dollar-Thifty for $1.27 Billion in a transaction that will include cash and stock. When I saw this news earlier in the week, I immediately thought of the implications to satellite radio, but wanted to dig a bit deeper and firm up some information prior to writing an article.
The deal will not merge the brands. Instead, the Dollar-Thrifty name will still exist so that Hertz can have a multi-brand strategy in the leisure segment of the rental business. This is nothing new. Enterprise, Alamo and National are all under one umbrella.
So how exactly can this help satellite radio? Hertz has been one of the premier rental car company's for many years, and as such has been a valuable rental partner for Sirius XM Radio. The original Hertz deal generates revenue as well as exposure. Because Hertz would make money on cars equipped with Sirius, they would promote it much better than other rental companies.
The Hertz dollar deal may not make substantial changes, but the possibility does exist that Hertz could approach Sirius XM to extend the existing deal to their newly acquired brand. The likelihood is quite possible because it is very typical of multi-branded rental companies to "carpool" by swapping vehicles to the brand that needs them.
I am a VERY frequent renter of cars. Over the past year I have rented cars on about 30 or 40 occasions. I noticed that some rental companies charged for satellite radio while others did not. I noticed that some companies had satellite radios installed but not activated, while others had fully active radios. I noticed that the rental car landscape was confusing when it came to satellite radio. I also noticed that there were times I was renting a car that had over 50,000 miles on it!
Consolidation in the rental car sector could help get some consistency in what has otherwise been a hit or miss proposition for quite some time. The real benefit may come in terms of Fleet sales. Because Hertz derives revenue from satellite radio, they would tend to buy cars that were equipped with satellite radio more so than a brand that got no benefit. By buying out competition, Hertz has more buying power for Fleet sales. By increasing satellite radio penetration in Fleet sales, satellite radio gains a chance at revenue from the car while with Hertz, and again when it hits the Certified Pre-owned market.
The dollars for satellite are not huge. Yes, Sirius XM gets some money from the rental fleet, but nothing that I would term as significant. Satellite radio ended 2009 with 116,056 active satellite radio subscriptions in the rental fleet. That number should jump by a healthy margin in Q1 because rental car companies were active in renewing their aging fleet during that period.
In essence the benefits will be realized in potential additional marketing, consolidated fleet sales, and a more healthy rental channel that can keep buying cars instead of letting the fleet age as it did between 2008 and 2009. Fleet sales will help keep monthly auto sales at levels around 1,000,000 units, the magic number for Sirius XM subscriber growth.
Position - Long Sirius XM, No Position Hertz