You may grow tired of this, but SiriusXM is consolidating.  I know, it is the same old story!  However, if you want to be a savvy investor this is when you want to pay the closest attention.  While others fall off to sleep, you will be in tune with things much more closely than the average Joe.  Like anything, it takes hard work and perseverance to be successful.  Even if that work seems mundane.
SiriusXM continued in consolidation mode today.  The volume was not heavy, but not the slight decrease we want to see either.  It would seem that there is enough worry in the macro-economic world to keep this see-saw ride going for the time being.  On the Exponential Moving Average front we have three caution flags and the averages tightening up even more.  This is getting interesting!
Volume
As stated, the volume on the equity is lighter than normal and indicative of a trading range here in the consolidation land we have come to see is the $2.70's.  SiriusXM did a spike up to resistance and bounced back down.  It took a dip to support and bounced back up.  A savvy trader would have been lucky to catch the top and the bottom.  As I said, I am in holding mode unless I see something compelling.

We are looking for volume of 90 to 95 million shares as a meaningful first step.  It can happen at any time, but more likely than not there will need to be some compelling news to be the driver.  Watch closely, and even though it is boring, pay attention.
Support and Resistance
SiriusXM's support and resistance picture is still pretty much the same.  There is a slight bearish bias that still exists, but that is also part of the see-saw effect of consolidation.  Resistance at $2.77 is stronger than support at $2.70 though both have been resilient lately.  My take is that it will take 95 million in volume to test $2.80, whereas a test of $2.68 could happen on 70 million shares.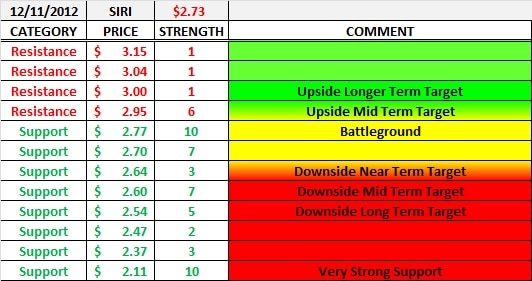 The key levels are $2.70 and $2.77.  On your radar screen should be $2.64 and $2.60.
Exponential Moving Averages - EMA's
As stated earlier, we have 3 caution flags up right now.  The bad news is that we are a pretty darn close to developing a warning flag!  A close of $2.74 or less tomorrow will bring on the first warning flag.  A close of $2.70 will likely bring another.  Exactly how tight can these moving averages get before something is going to give!!!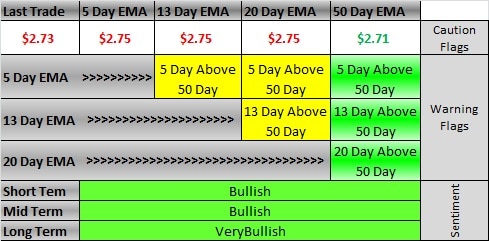 What we want to see is this equity close above $2.75 tomorrow.  That will avoid any warning flags.  Pay close attention to the volume, as it will indicate the strength of a move.  We now have the 100 day EMA at $2.60 and the 200 day at $2.40.  Note these levels, they could come into play on a dynamic move (up or down).  Note that I flagged the possible warning flags that could appear in yellow.  Watch this closely and remember a close of $2.74 or under tomorrow could bring about at least 1 warning flag.
Mock Trading Account
The strategy is essentially the same.  With a dividend around the corner I only will consider a trade on a compelling move.  Because I am currently all i, my only sell move would be if the equity passes $2.67 on heavy volume.  Should that happen I would consider selling my level 2 over core position.