The kids are back to school and summer is over.  That is the good news.  The bad news is that as more traders enter the market, they may be betting on what is hot and what is not.  While the fundamental story of SiriusXM is sound, the technicals are not.  SiriusXM is on the wrong side of the support and resistance wall at $3.61.
What we have to watch for is a possible test of the 100 day EMA at about $3.50.  Yes, it is possible that investors will like the fundamental story.  If that happens this can bode well.  The key here is getting above $3.60 as the EMA's finish consolidation.  We also need to bear in mind the overall news flow.  Keep the Syria situation on your radar.
We want to see volume increasing to the upside.  We want to pass $3.60 on 40 million shares or more.  Watch closely.  If we do not see volume enter the equation, we may drift to $3.50 or so.
Volume

Support and Resistance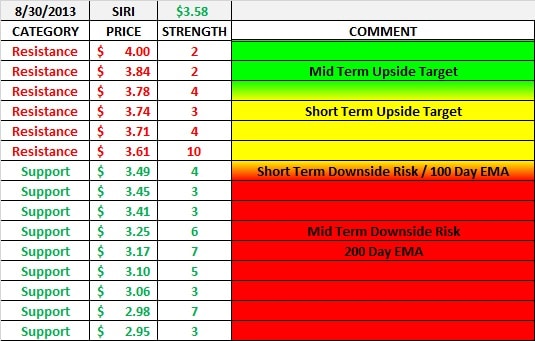 Exponential Moving Averages