Happy Holiday's everyone.  The good news is that SiriusXM has found a bit of support as the major holiday approaches.  The bad news is that we are not out of the woods just yet.  There is plenty to be confident about in the longer term, but the short term will have its moments that seem very bearish.
SiriusXM is now above the 200 day EMA and we have removed one caution flag from the EMA chart.  Tis move happened on Higher than average volume Friday, and held for a lower than average session on Monday.  Essentially, I think we close out the year in a sort of consolidation mode.  Bear in mind that funds rebalance, and investors may conduct some buys and/or sells for tax reasons.  The next week could be quite interesting.
On the risk side, we still want to keep $3.40 on our radar screens.  What we really want to see is $3.50 hold today.  If SiriusXM can remain where it is at the moment, we will have the EMA's consolidate in the mid $3.60's.
Watch the action, bet do not get overly concerned about moves over the next week.  As the new year comes in look for news on auto sales.  In addition, the company will increase prices with the new year, so this may be able to start showing up in the Q1 report.
Volume

Support and Resistance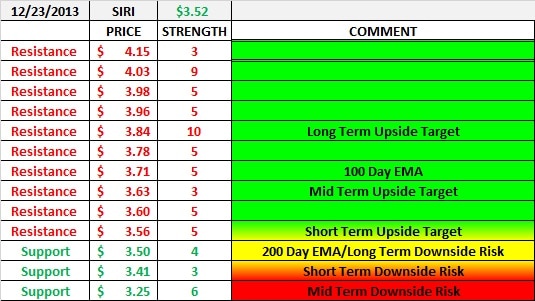 Exponential Moving Averages