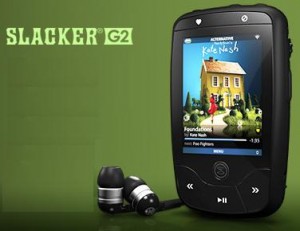 I got a wonderful package in the mail a couple of days ago. It was a Slacker G2, and indeed it lives up to the high standards we have come to expect from a service such as Slacker. The G2 is small, light, intuitive, and best of all carries a great selection of songs without me having to download all of them.
For audiophiles, Slacker is a great solution. The concept and service sit in a niche between satellite radio and MP3 player. The stations refresh according to your style and taste, which allows for new music discovery, yet at the same time you can build your music library with the simple press of a button.
Slacker bills itself as the solution for connoisseurs of music, and with the new G2 this is perhaps an understatement. Slacker subscriptions are reasonably priced anywhere from FREE to $10 per month. The free service has commercials. The premium service is only $7.50 per month if you subscribe on an annual plan.
The Slacker G2 has won a spot on my dashboard, and will be a constant companion on flights. While I love satellite radio, there are times when I just want to jam to tunes with the ability to fast forward.
You can see a full review of the Slacker G2 at Slacker Active.