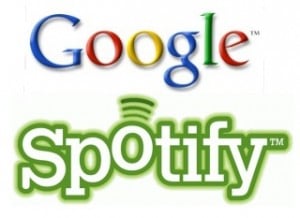 With the audio entertainment landscape becoming more crowded, it was hard to imagine Spotify launching in the united States with a splash. Consumers already have AM, FM, HD Radio, Sirius XM, Pandora, MOG, iHeartRadio, Slacker, and more to choose from. Exactly what could Spotify do that would get consumers to gravitate to their service over their current choice for audio entertainment?
The answer to this question may come from a rumored relationship between Spotify, and mega-company Google. According to CNET Google, so far unable to cut deals with the record labels, may be reaching out to Spotify which has some deals in place. Google has been rumored to be launching a cloud based music service for quite some time. Spotify, already in operations in Europe, wants to enter the U.S. market.
On its face a deal such as this makes sense. Google is having troubles negotiating with labels that likely want to strike a lucrative deal with a company that can compete with and bring more revenue than iTunes. Perhaps the record labels, knowing that Google wants to get into the space, are seeking a deal that would hamper the business model for Google. By teaming with an existing service Google avoid the negotiation hassle. For Spotify, such a deal would bring immediate returns in that Google's Android platform for smart-phones is the most popular on the market.
The next natural question is why Google wouldn't partner with a company already offering services in the United States. That answer can be summed up easily if you think like Google...GLOBALLY. Spotify already has deals in place in Europe and is widely popular there. Pandora and others are only operational in the United States.
According to CNET, Google did not comment on the story and Spotify's Jim Butcher stated, "Nothing in it", as he denied that the company had spoken to Google. Whatever the case may be, Google is marching forward in their quest to get a music streaming service to the clouds.
[via CNET]
Position - Long Sirius XM Radio, No Position Google