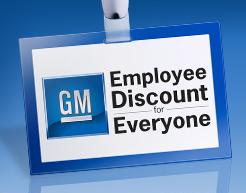 General Motors has announced that all 2008 and some 2009 vehicles will be available to every day consumers for the employee discount. The Employee Discount promotion started in 2005 and boosted GM's sales in a big way. Other auto makers have offered similar promotions as well from time to time. GM, who markets the promotion strongly with well pointed ads, has been busy with commercials during the Olympic Games on NBC.
Steep auto discounts was one of four factors that I felt would boost auto sales. While other turn around factors have still not been met, the Employee Discount Program offered by GM may be enough to stabilize sales for the auto maker, which in turn will help satellite radio subscription numbers. For consumers, there is also additional cash incentives on top of the already discounted price.
General Motors has been the largest installer of satellite radio since the beginning. While the deal is expensive, it does help boost the subscriber numbers and could be a factor in getting Sirius XM to cross the 20,000,000 subscriber hurdle by the end of the year.
At this point it will be interesting to see what other auto makers do in response, and whether that will fuel stronger automobile sales in Q3.
Position - Long SIRI, No Position GM