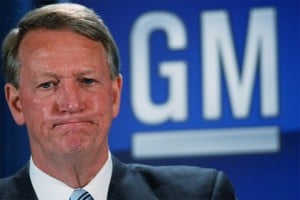 When Sirius announced that it had signed Howard Stern at a price tag of 100 million dollars a year, many thought that price tag was high. As the years have past, pundits have continued to point at that deal as an example of the competitive over-spending that occurred while  Satellite Radio was in its infancy. As it turned out, the deal Sirius inked with Stern proved to be a very good move for the company as subscribers flocked to the Sirius Satellite service.
To understand how such spending began, one needs to go back in time to the contract signed by the former XM Satellite Radio with General Motors. At that time, there was no proven market for Satellite Radio and no one could be assured of its success. With that thought firmly in mind, XM and GM came to terms that brought the Satellite Radio market to reality at the expense that is, of XM's own profitability. Highlights from the agreement include:
(xm) has agreed to subsidize a portion of the cost of XM radios;
to make incentive payments to GM when the owners of GM vehicles with installed XM radios become subscribers
share with GM a percentage of the subscription revenue attributable to GM vehicles with installed XM radios
As part of the agreement, GM provides certain call-center related services directly to XM subscribers who are also GM customers for which the Company must reimburse GM.
Under the terms of the current contract which is not set to expire until 2013, the costs to Sirius XM are approximately 350 million dollars annually.
For the three and six months ended June 30, 2008, the Company incurred total costs of $86.5 million and $169.0 million, respectively, under the distribution agreement; while for the comparable periods in 2007, the Company incurred costs of $70.5 million and $131.8 million, respectively
Any GM slowdown in sales benefits Sirius XM as costs are reduced substantially, directly adding to its bottom line. Now that the market for Satellite Radio has been established,  a renegotiated contract would again benefit Sirius XM Radio.
I'm sure some will point to lower subscriber numbers that may result. That argument is moot now that Sirius and XM have merged. The American consumer will buy approximately 10 million vehicles this year. GM and Chrysler's loss for that matter is Ford and Toyota's gain. Satellite Radio has penetrated every make and every model vehicle sold in the United States.
Position: Long Sirius XM