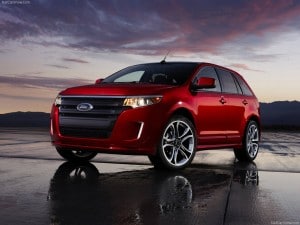 It may take rockets to get Sirius XM's (NASDAQ:SIRI) satellites into space, but it does not take a rocket scientist to know that positive events in the auto sector bode well for the satellite radio provider. Earlier this week I wrote about how timing is everything, and that positive auto sales news combined with good numbers from Sirius XM on May 3rd would help drive SIRI higher. What I failed to mention was that there would be auto news leading into May that could benefit the company as well.
Early today Ford announced that they are reporting their biggest Q1 profit in 13 years! Despite a weakened economy and the natural disaster in Japan, the U.S. automaker seems to be hitting on all cylinders. Ford announced an increase in Q-1 profits of 22% as they told the street about the $2.6 billion in profit that Q-1 delivered. Shares of Ford rose to $16 in pre-market. Investors interested in more information about Ford's Q-1 can jump over to iKickTires for more details.
With all of this talk about positives in the auto channel it is only natural that Sirius XM will benefit. The timing could not be better here as Sirius XM tests the $2 level for the first time in a long time. Sirius XM is poised to announce what promises to be some good numbers in Q1 on May 3rd. Good news is a virtual guarantee because in Q1 we saw over 3 million cars sold. With satellite radio going into about 65% of those vehicles, the numbers of subscribers generated allow the company to have positive metrics across the board. Combine Ford's great Q1 with announcements from other OEM's and then add an extremely positive sales month for April and you can see a recipe for Sirius XM making a run.
While the OEM sector news could be considered fortuitous, there are other things going on at Sirius XM that are simply demonstration of great management by Mel Karmazin and his employees. The company is managing their debt picture in ways that will pay off down the road. They are trimming expenses and reworking deals that include mobile streaming. They are moving in a positive direction on all fronts. Sirius XM has kept their house in order during the worst economic times. By doing so, investors can reap benefits as all of the cards from other sectors fall into place.
With Ford announcing great results today, we now look to GM. The company should have no trouble announcing great numbers as well. It was already hinted at the New York International Auto Show that sales are strong. The same situation holds true for Chrysler. Simply stated, financially successful quarters posted by the auto channel is great news for satellite radio. A recovery in the auto channel is happening, but the only question was how strong that recovery is. With more positive financials, it appears to have some legs to run with.
Position - Long Sirius XM, No Position Ford