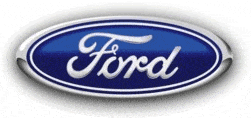 Ford (F) and GM (GM) have been synonymous with rivalry for decades. Ford vs. Chevy in Nascar, Monster Trucks, and even with window decals decorating the back windows of trucks. "Ford Tough" seems to have won out recent as Chevy's "Like a Rock" has been crumbling.
Ford has stood tall in a time when nearly every manufacturer is seeking bailouts. Even Toyota had at one point sought aid from the government of Japan. Of the big three US auto makers, Ford has been the only company that has not accepted government bailout money.
Now, as GM teeters on bankruptcy and with six top GM executives selling out their shares, Ford is announcing a new plan issue up to 345m in common shares at a yet to be determined price. The move could potentially bring $2 billion into the coffers of Ford. Even in this bad economy, Fords shares have appreciated substantially delivering a four bagger to anyone who invested in February.
For newer satellite radio investors, OEM news may seem off the beaten path, but there is an importance to what is happening in the OEM channel. Ford will be a likely benefactor if sales of GM and Chrysler continue to slip. Already, GM production is substantially lower than years past. If Ford markets themselves as a stable solution, rather than part of the problem, consumers may well visit Ford dealers in numbers even greater than before.
The Ford deal with Sirius XM delivers 6 month subscriptions to the company. The structure of the deal is similar to the Chrysler deal, where upon manufacture (and Fords payment for a six month subscription), the vehicle is counted as a subscriber. This will help subscriber roles with a brief sacrifice to ARPU until the car is sold. What is happening in satellite radio is a shift in the mix of OEM subscribers. A change in that mix impacts metrics.
The OEM channel deserves special attention by investors this quarter. Chrysler has already announced that they are cutting of production, and GM is slowing substantially. While it is unknown if Sirius XM will shift chipsets to Ford, or whether Ford will increase penetration, there is still an impact.
On a side note Toyota had previously noted that they were on a pace to deliver four times the amount of subscribers as last year. While that news seems great, Toyota was just beginning to ramp up, and it is only now that the most popular Toyota, the Camry, is seeing SDARS as standard equipment. The ramp up by Toyota will help, but auto sales need to get above 10 million on an annualized basis before things will look positive again.
Position: Long Sirius XM. No Position Ford, GM, or Toyota