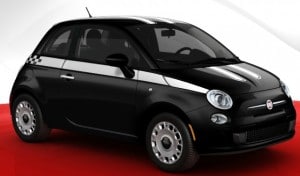 Fiat, the company that has bolstered the Chrysler brand over the past two tears, and may garner an even bigger stake is launching in the United States, and is among the newest partners of Sirius XM in the automotive channel. While news of the Fiats U.S. launch has been subdued, and quiet, the company does plan on making inroads into the U.S. market with fuel efficient cars like the Fiat 500.
Fiat buyers can get several interesting options on their car, and satellite radio fans will not be disappointed, as Sirius Select is an available option. The satellite radio service is bundled with the Bose Premium Sound system and adds not only satellite radio, but an upgraded stereo as well as an alarm system. That option does run an additional $1,250, but you get one year of Sirius XM programming included.
The Fiat 500 may seem quirky to some, but it likely fits into an eclectic category of fans which enjoy other compact cars like the Mini and Volkswagen Beetle. The Fiat advertising push has already begun on the Internet, and we should be able to look for the company to grow here stateside over the next couple of years.
Position - Long Sirius XM Radio