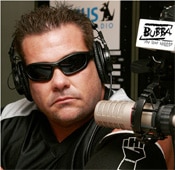 Feeling a little Bamboozled by the deal? All you need is a couple Blue Genies and man up on that Block Rocker! Let's not Kayfabe this Mcgillicuty while the price is right. Huh? If you know what the heck I just said, then you must be a part of the Bubba Army.
Bubba The Love Sponge on Howard 101 and his cast of characters are a true talent. I have to give props to Bubba, Brent, Manson, Spiceboy, and Ned. I sit in traffic after work just cracking up listening to them. I guess you can say that Bubba and the gang is like a bad case of psoriasis. They just grow on you, and you just keep coming back for more.
Bubba is in the middle of contract negotiations with Sirius, and I am not sure if things are going well. On today's show, he played songs such as Bye Bye Bye, Thanks For the Memories, and other songs with departing titles. Sounds like Bubba is getting a little bamboozled by the deal. I hope that Bubba and the gang stay on Sirius, as the showcase of free speech and unique content they provide on a daily basis is what defines Satellite radio.