The NPD data for February 2008 has been released. The NPD Group is the leading global provider of consumer and retail market research information for a wide range of industries. They provide critical consumer behavior and point-of-sale (POS) information and industry expertise across more industries than any other market research company.
The data for February has mixed results. NPD tracked retail sales were still slightly down on a year over year basis, but month over month data is positive, and tracking better than in previous years. By example, in previous years the bump in sales from January to February has typically been very modest. This year the bump is 54%. The significance of this bump on a month over month basis can not yet be measured in terms of a trend, but indications are that the sector could well be seeing the end of poor year over year comparisons in exchange for comparisons that are flattening out.
The February results are better than most analysts expected, and if the trend indeed flattens out, it will give a measure of predictability to the retail channel, a situation that has not existed in over a year. many analysts had anticipated the first quarter having sales down in the 30% to 35% range. Sirius has had a larger NPD share for 30 consecutive months.
Given the most recent data, it would appear that retail is performing better than most anticipated, and perhaps we have seen an end to significant year over year declines.
NPD MARKET SHARE FEB 08
Sirius – 67%
XMSR – 33%
YEAR TO DATE NPD MARKET SHARE 08
Sirius – 67%
XMSR – 33%
YEAR OVER YEAR COMPARISON (FEB 08 vs. FEB 07)
Sirius – Down 16%
XMSR – Down 19%
Sector – Down 17%
MONTH OVER MONTH COMPARISON (FEB 08 vs. JAN 08)
Sirius – Up 59%
XMSR – Up 44%
Sector – Up 54%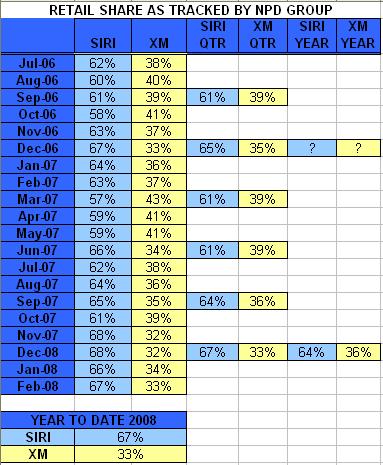 Position – Long Sirius, Long XM