While the headlines of a SAAR over 15 million is certainly something to celebrate for Sirius XM (NASDAQ:SIRI) investors, it is the actual numbers that really matter, and February delivered with vehicle sales of about 1,151,000 units, an impressive jump from the 992,000 we saw last year, and also an impressive leap over the 914,000 we saw just a month ago.  Let's not run and celebrate a 15 million SAAR, instead let's celebrate the first two months of the year already averaging well above the magic 1 million sales mark that allows the satellite radio provider to produce decent numbers.
While this news is certainly great, we are also beginning to see the reasons for Sirius XM's low subscriber guidance coming to fruition.  Earlier this month I wrote a piece about the mix of subscribers and why it may impact Sirius XM's subscriber picture.  The article, titled Deeper Color On Sirius XM's Subscriber Picture offers up a very reasonable explanation as to why, despite higher car sales this year, the company is guiding to fewer net subscriber additions.  I would recommend that you take a few minutes to read that article before finishing this one.
Okay.  Now that you are well versed in how Sirius XM counts subscribers we can move onto what is happening in the auto sector and how it impacts Sirius XM.  As the Asian automakers continue to recover from last years disaster in Japan, they will essentially have to take market share and/or absolute sales from somewhere.  What I see happening is that the "Trailing" category, which includes several Asian automakers, is gaining in market share and sales at the expense of the "Point-of-Sale" category.
Last year the "Trailing" category had sales of about 310,000.  This year they boosted those sales to 362,000.  That is an impressive 15% gain.  Meanwhile the "Point-of-Sale" category went from 2011 sales of  330,000 to 349,000.  This is a much more humble 5% gain.
The trade off here may not be obvious, but I will spell it out.  Every satellite radio equipped car manufactured in the  "Point-of-sale" category delivers a subscriber for at least 3 months.  Every satellite radio equipped car in the "Trailing" category only becomes a subscriber if the consumer elects to become a self paying subscriber.  In other words, GM produces 100% subscribers some of which will fall off the rolls, while Toyota produces no subscribers unless the consumer elects to keep the service.
In the GM deal, even if you do not want or listen to Sirius XM you are counted as a subscriber for at least 3 months.  In the Toyota deal this is not the case.  Thus, if the "Trailing" category is gaining ground, then another category must suffer.
The bottom line here is that auto sales are indeed good, but the mix is what is presenting at least part of the challenge when it comes to subscriber numbers.  Most expect that the company will beat their guidance of 1.3 million.  The question is, by how much.  Certainly the early information on February auto sales give cause for a positive outlook.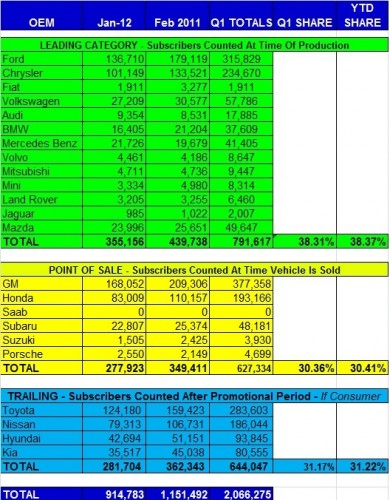 Consulting the sales chart tells us the beginnings of how 2012 will begin to unfold.  One thing that is certain, production will need to ramp up to meet demand.  Better production bodes well for Sirius XM across the board, but it is partners like Ford and Chrysler that deliver the longest term churn-proof subscribers.  Seeing sales figures for those companies could be an indication that production could ramp up more.
Ford has already announced that they are raising second quarter production by 3% to 730,000 vehicles.  Ford still has decent inventory and has kept Q1 production steady at 675,000 units.  Chrysler's January Production increased by some 45,000 units over last year.  Should the sales pace at Chrysler continue to climb, their contribution of 1 year subscribers could deliver a healthy boost even with the "Trailing" subscribers gaining share.
The bottom line is so far things in 2012 are looking good.