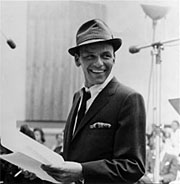 Old Blue Eyes has become the latest addition to the ever expanding list of quality SIRIUS programming. The new channel slated to be called "Siriusly Sinatra" will feature a show hosted by Nancy Sinatra, along with recordings spanning Sinatra's entire career, other big band artists, and rare live concert performances.
Siriusly Sinatra, scheduled to launch soon on SIRIUS, will be the only channel available on radio that is produced by the Sinatra family. It seems that SIRIUS really wants to drive that fact home now that XM no longer owns those rights.
In an effort to cut costs XM changed the name of their popular "Frank's Place" (Ch. 73), to "High Standards" just one week ago. Sirius didn't waste any time scooping this one up.