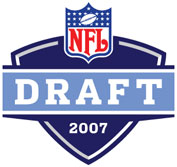 Sirius Satellite Radio is set to broadcast comprehensive coverage of the 2007 NFL draft live from its Radio City Hall headquarters in New York City.
Tune in to Sirius NFL channel 124, for extensive start to finish coverage of all 32 NFL teams through all seven rounds with SIRIUS expert analysis. Starting at 11 am on the 28th right up until the final pick on the 29th you will get live announcements of every selection accompanied by the commentary of Randy Cross, Gil Brandt, Pat Kirwan, Tim Ryan, Jim Miller, Adam Schein and Bryan McGovern.
In addition to the picks and commentary, you will also hear interviews from top draft picks, players around the country, and team reactions from coaches and general managers.
I personally will be listening just to hear who the genius that is Bill Belichick will be selecting in the first couple of rounds, just so I can curse him now and praise him later when his mind numbing, head scratching pick becomes a force in the league by his sophomore year. Don't hate me because I am a Patriots supporter…I am no fair-weather fan. Since my childhood I have been right by their side watching every game, including their ass handing, 46-10 Super Bowl XX defeat.