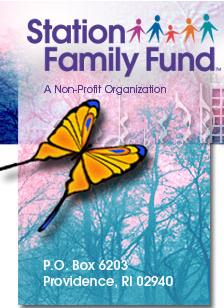 Every once in a while we should all step back and look at things that we may normally look at. We all live busy lives, and it is easy to get so consumed in what we are doing that we do not see the beauty of the world around us, or the people that may need a helping hand. I am not preaching here, I am merely stating what is reality in our every day lives.
Today on the Howard Stern Show Dee Snyder, who also has a show on Sirius called Fangora Radio was interviewed. Yes he was promoting a reality television show on TV's Country Music Channel, but he was also giving much needed exposure to a group of people that have a true need. The victims of the Station Night Club Fire.
The Station Nightclub fire happened five years ago at a small venue in West Warwick Rhode Island. Pyrotechnics used in the show of rock band Great White ignited the stage and building leaving 100 people dead, and 200 people injured. Sixty-five children lost one or both parents in the tragedy.
Now, five years later, there are many who have lingering medical issues, and children who, without one or both parents, will suffer for years to come. This fire carries a special meaning to me. The Station Nightclub was only half an hour from my home, and the news stories regarding continue to this day on a local level. Unfortunately, the story has been lost on a national scale, until today thanks to the Howard Stern Show and Dee Snyder.
The charity that helps the families of the Station Nightclub fire victims is The Station Family Fund . This charity tries to ensure that the tragedy of the fire does not have to be lived on and on because of medical need of financial burdens. While the Station Family Fund can not erase what happened five years ago, they can try to ease the burdens in the tragedy's aftermath.
Many who read this will not get this far into the story. That is fine. We all have our own lives, agendas, and problems. For those that get this far, I would ask that you take a few minutes to review the website of the Station Family Fund and simply consider giving a little bit of help to the organization.
I would like to thank Sirius Buzz readers for indulging me the time of reading this story and especially thank those that choose to help.
Position - Long Sirius