The last couple of trading days have been interesting.  On days volume was very light or moderate until late in the day.  It is late in the day that we see volume surges.  It has presented some interesting dynamics to watch.
In the mock account the equity did hit $2.67, but it was on light volume.  My sell point was "$2.68 on heavy volume".  Because the volume was light I still maintained m entire position in the mock account.  More on that below.
We are seeing the technicals constrict more.  We now have only a 4 cent gap between the 5, 13, 20, and 50 day averages.  The support and resistance is in flux yet again.  We have some key changes here that investors will want to note.
Volume
Volume was light all day day long...Until the close neared.  It then saw a good amount of volume come through and a spike to $2.75.  It looks like the equity is behaving like one in consolidation that wants to make a move but simply does not have the legs to do it.  A technical break (up or down) can happen without news, but it is usually news that is the catalyst.  What we are seeing seems like compelling volume at the end of the day, but looking intraday, most of the day is spent on light trading.  I suspect Liberty Media may be in the market here, though we will have to wait for SEC filings to know for sure.  Volume at 87 million is compelling, but the moves are not bold on this volume and it is not steady throughout the day.

Support and Resistance
We have a few notable changes.  The flip flop of resistance between $2.77 and $2.75 is still happening.  The new level is $2.74.  We have also seen the support levels at $2.66 and $2.57 consolidate into one support level at $2.60.  This second change is worth noting because it takes a safety net in the mid $2.60's out of the equation.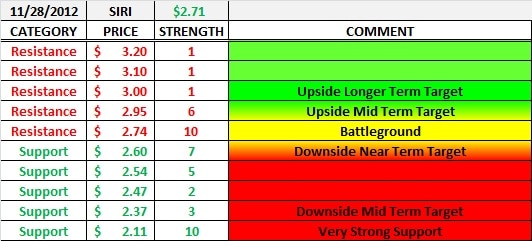 What we want to see is this equity continue a bit more consolidation.  However, we want to be ready for a move as well.  Even though the support and resistance chart does not show it, the 50 day EMA is at $2.70, just below current levels.  This will impact my trading strategy slightly and I will discuss that below.
Exponential Moving Averages - EMA's
We still have caution flags and warning flags in play.  Things have shifted a bit, but the issues that were discussed yesterday are still in play.  With moving averages so tightly wound the equity will seek a direction for a decent sized move.  It is simply a question of direction.  Bear in mind that the macro economic landscape will impact the way SIRI trades.  Nerves surrounding the fiscal cliff are nothing to ignore.  How tightly is this wound?  If the close had been at $2.74 we would have had another warning flag because the 20 day average would have remained at $2.75!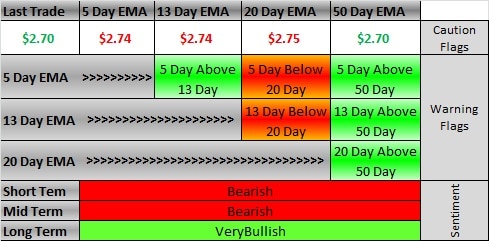 At this point, to begin to trend bullish we need to see SiriusXM break up past $2.74 on good volume.  The bearish side has the equity testing the mid $2.60's, yet this would still be consolidation.  Longer term I am bullish.  Short term is a crap shoot.  I am now leaning to bearishness, as it is the path of least resistance right now.
Mock Portfolio
I had no trades in the mock portfolio today.  The equity did test my sell level, but volume was too light to pull the trigger.  While it may seem tempting to pick up a nickel here and there, there is a lot of risk in trying to accomplish that goal with the moving averages so tight.  My strategy for tomorrow is interesting to say the least.  I am a seller of Level 2 Over Core at $2.67 if it happens on volume.  I am a seller of Level 1 Over Core if it passes $2.60 in any way.   I am a seller of Core if it dips below $2.54 on volume.  The phased sales offer me the ability to participate in the swing without big risk.  Note that my core position is only sold if there is a breakdown.