Well, it appears that the pressure is to the downside.  SiriusXM posted another warning flag today, tested below $2.97 (the 100 day EMA), and settled at exactly $3.00.  Bear in mind that this happened on higher volume than we have been seeing lately.  If you have not done so prior, you must now give serious consideration to the 200 day EMA that I have been discussing.  That sits down at about $2.80.  It is my belief that the level of $2.80 would be a bottom, so we may have a great accumulation and/or entry point on our hands.
I expect a good conference call about 4 weeks from now, so that should allow the equity to hold that line at the 200 day average.  An active trader may well consider a sell here, but there is risk of a pop, or that the equity does not drift much lower.  Is seeing the price 5% cheaper really worth it?
Volume
We saw the type of volume we wanted to see.  Unfortunately it was to the downside and not the upside.  Pay attention.  What is happening is your shareholder value is eroding slowly.  If you can stomach holding on for another 20 cents in dips, then I commend you.  As I have stated many times, I like the upside this year.  It is just taking time to come to fruition.

Watch to see if the downtrend continues and whether or not the volume is accelerating or drying up.
Support and Resistance
Support at $3.06 was broken.  The equity even tested below the support at $2.99.  If I was betting I would bet that this equity will still go lower in the short term.  However, when the upward move happens it will likely be bold and fast.  You need to pay attention.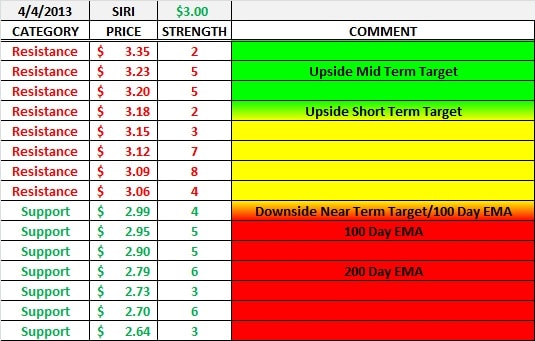 Exponential Moving Averages
Lots of caution and warnings here.  Particularly in the short term.  notice though that the averages are all very tight, and actually quite close to the current price.  This can turn around and rise, it is simply a question of when.  I see the bottom side risk at about $2.80.