SiriusXM Hit a 52 week High -- Awesome!  Now the reality check.  It did it on lower than average volume.  This, in my mind, points to a serious chance of some consolidation happening.  Do not fear it... it's healthy.
Looking at the EMA's, we have a 20 cent gap between the 5 day and the 50 day.  Just a week ago these were even, and a few days before that, the 5 day was below the 50 day.  The equity has essentially made a sprint.  It needs to take a small breather and prepare for the next move.
What we want to see happen is the consolidation happening at levels above $3.50.  When and if we see this equity move, we want it to be on volume of at least 80 million shares.  If very positive news is involved we want to see that volume over 110 million shares.
I my opinion I would not worry about a downward move unless it happens on more than 80 million shares, and only if it approaches that $3.50 mark.  Below $3.50, the next stop is $3.41.
Volume

Support and Resistance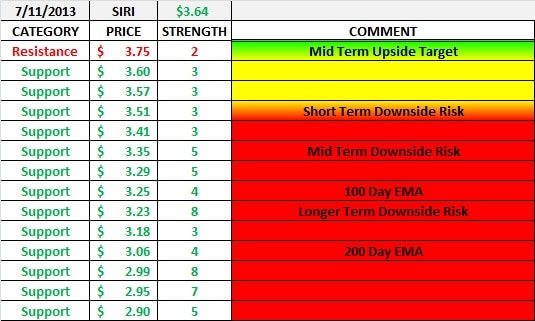 Exponential Moving Average