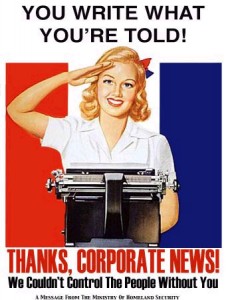 It all started with a remark or two from Mel Karmazin at the recent Merrill Lynch media conference. I wrote that day exactly what it was Mel had done wrong, in this meeting of media moguls, and Mel was nice enough to apologize for his flippant remarks in an interview 1 week later with the Wall Street Journal.
As I troll through the barrage of news stories relating to satellite radio, it has dawned on me that perhaps the most damaging comment from Mel has not been addressed. He said that "regular radio sucks" as an investment. The problem with this statement is that regular radio is owned primarily by NAB controlled, traditional media companies. The recent negative bias seems to be nothing less than a smear campaign designed to destroy confidence in Sirius XM.
And it's working. Even the strongest supporters of Satellite Radio seem stuck on this issue of debt due next year, and their confidence in the product and company is being destroyed. They have created a fear and doubt scenario that has become the focus of Sirius XM. New products and programming, analyst buy ratings and reaffirmations, and great new pricing options are doing little to affect this negative sentiment.
Every article I read these days mentions at the very least, the 300 million dollars in debt that Sirius XM has coming due in February 2009. Not one of them mentions the plan laid out by Mel & Co. to deal with the issue. Everyone looks at Lehman and makes the assumption that liquidity problems in the investment banking sector are a negative for Sirius. Nothing could be further from the truth.
The reason I propose this is that Sirius has made it clear that they first intend to use cash on hand to dispose of the convertible debt obligation. Assuming Sirius was to use 150 million dollars, that would only leave 150 million to dispose of. The company has offered that any shortfall's would be made up of bank loans. There are other options as well. Lines of credit from the oem's and Loral for example. My personal opinion is that more than enough cash will be available when these debt obligations are due.
It seems no one is willing to give the company time to execute on its business plan. A la carte offerings, "best of" programming and even the new navigation systems offer increased incremental income and should greatly improve the company's liquidity and top line growth well before next February. If I can figure this out, why can't Wall Street?
The answer, I'm afraid, is in the negative media bias campaign. It looks to me like the NAB is not quite done with their mission to diminish competition, by removing the greatest threat to terrestrial radio's stranglehold on the American public; Satellite Radio!
Position: Long SIRI, no position LORL