Sirius XM satellite radio is the core business of Sirius XM. Out of this world content delivered to consumers via satellite seemed revolutionary when the concept was dreamed up, but here in 2010 there are many ways that consumers get audio content. Some, like AM and FM radio have been around for decades, while others such as Pandora, Slacker, Last FM and Jelli are newer to the audio entertainment field. The discussions about how these various services compete has been and will continue to be an ongoing debate, but what Sirius XM investors want to know is whether Sirius XM's Internet Radio service can be competitive in the arena of Internet Radio.
The biggest threat to Internet radio did not happen last week with AT&T's announcement of charging for data, but rather two years ago when new and more expensive royalty rates were announced. It was then, in 2008, that Pandora was seriously threatened with having to close their doors. Owner Tim Westgate announced July 7, 2009 that Pandora had reached agreements with the record labels which would significantly reduce the royalty rate, making it possible for Pandora to stay in business. The company had adapted their business model by limiting listeners to 40 hours per month for free. That 40 hours can be extended to unlimited for that particular month for $0.99. Additionally consumers cam upgrade to Pandora One which offers a higher bit rate (192kbps) and a dedicated music player. The cost of Pandora One is $36 per year.
Pandora adapted their business and thrived. Today the company has over 48 million subscribers that tune in an average of 11.6 hours per month. The question is not whether Pandora will survive. They most certainly will. They adapted before and will adapt again. With seamless integration with Facebook, and one of the nations to websites, Pandora is in a much healthier situation now than they were two years ago. According to Alexa Pandora is the 72nd moist popular website in the U.s., and the 388th most popular globally. The survival of Pandora has little to do with satellite radio. Pandora appeals to a younger set of listeners. Their core listeners are between 18 and 34 years old. By contrast, Sirius XM's core group is 35 to 44. Simply stated, the respective services are catering to the listening habits of different demographics.
So what should Sirius XM do. The threat of cell phone data changes impacts all services that stream over the phone. Slacked developed caching, and the capability is quite slick. This solution allows for users Slacker channels to update when in Wifi rather than over the cell network. Users can still skip songs and ban songs as they did before, they are simply listening to cached content that is updated with ease. Pandora has not followed Slackers lead as yet, but chances are strong that they will. For Sirius XM fans, the question is how Sirius XM Internet radio will adapt, and whether it is even important to do so.
In my opinion, the company needs to adapt. The mere fact that Pandora has 48 million subscribers (24% through mobile devices) listening 11.6 hours per month demonstrates not only a demand, but that Pandora is offering something that people 34 and under appreciate. Sirius XM is seeing growth through the OEM channel, but think of the potential they can see in attracting those that are 34 and under. This segment is important because consumers build an affinity for brands that they use when they are young and impressionable. This means that services like Pandora, Slacker, Last FM, and Jelli are building brand strength in users that satellite radio will be seeking to garner as subscribers in 3 to 10 years.
What Sirius XM should consider is emulating some of the features that people like about other Internet Radio providers in an effort to build Sirius XM brand awareness at an earlier age. Perhaps a strategy that makes Sirius XM Internet radio much more different than currently available is something the company should consider. I have seen the dynamic of what this age gap means. There will certainly be staunch Sirius XM supporters that will argue that everything on Sirius XM is better, and that no change is required. I understand the passion about the content Sirius XM delivers that other services do not. Believe me, I get it. What I see here however is an opportunity to to BUILD into something that crosses a much larger demographic. Sirius XM Internet Radio and Sirius XM Satellite Radio are not going to bury these other services as currently constituted. These services have thrived and are still growing.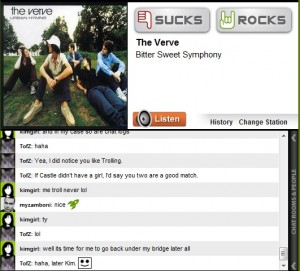 For many, I would suggest taking the time to explore some of these other services. Jelli takes things a step beyond even what Slacker and Pandora are doing. Jelli is an immersion of the ultimate in music democracy combined with social media. Jelli launched in 2009, and while not available on cell phone apps, has introduced some very interesting concepts. Users choose the whole play list. People are chatting live. People rocket songs to the top of the charts, or bomb them to the bottom. The service takes advantage of social media, and the chat rooms on their channels are active and building.
What could Sirius XM do to become more relevant in the Internet radio business. They have already taken some steps into social media, but there is more potential there that the company could take advantage of. Customizable radio stations is another facet the company could consider. It is this ability that is a key component of some of these services. Sirius XM Internet Radio could become a huge extension of Sirius XM if the company decides that it is a viable business. In the longer term, one problem of Sirius XM is that they do indeed lack an appeal to the under 34 age demographic. The Internet service could potentially be one of the best avenues available to the company to break deeper into that market. Satellite radio has been around for years, and the company has been unable to dent this age group in a meaningful way.
The bottom line is that services like Pandora are indeed thriving and these businesses are faced with a new challenge that they can and will overcome. Sirius XM has to deal with these same issues, and in doing so, has an opportunity to revamp the Internet service to gain some additional share from the other Internet radio services. Pandora has managed to get a massive number of listeners and continues to grow. There is a tendency of some to ignore it and pretend it is in trouble, but all REAL indications point to a growing business that investors need to be aware of, as it is indeed competition for the ears of consumers.
Position - Long Sirius XM Radio