It was only about a year ago that the very survival of Chrysler and Dodge was a question in everyone's mind. Sales were down, Daimler Benz sold what was left of the company to private equity and a pre-packaged bankruptcy was in the cards.  There were even those that thought that the Big Three would get trimmed down to the Big Two.  That was then...this is now.
I recently had the opportunity to check out the all new 2011 Dodge Charger R/T as well as the even more robust 2011 Dodge Challenger SRT8 392 (stay tuned for future article).  It is always exciting to be among the first to see new cars up close and personal.  There is just something about new cars that gets the adrenaline flowing.  What is better than walking around a brand new car and taking in all of the newness?  DRIVING THEM!  That is exactly what I was able to do at the Orlando stop of the Hemi Highway Tour, a specialized 40 day tour designed to bring these exciting new cars to the most devout Dodge enthusiasts across the country.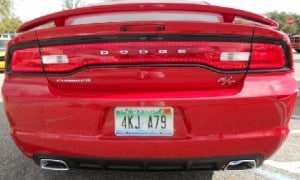 Chrysler and Dodge have always had some bold design concepts.  From cab forward designing of the 1990's to the bold styling of the Chrysler 300 and Dodge Magnum, and lets not forget the all new Jeep Grand Cherokee!  The exterior looks were always there.  These products turned heads!  Where the company tended to suffer was on somewhat bland interiors with a fit and finish that did not seem to live up to that exciting exterior.  With the new 2011 Charger and Challenger, consumers now have the full package!  Great looks, great performance, and a neat and clean interior cabin full of all the bells and whistles you could want.
I arrived at the Orlando Hemi Highway stop hosted by Airport Chrysler Dodge in a rented 2010 Dodge Charger.  I travel frequently and rent a new vehicle about every 10 days.  This gives me ample opportunity to check out what various brands have to offer, and what auto makers are offering for a "typical package."  It also gave me a first hand comparison between the 2010 Charger and the all new 2011 Charger.  What a Stark Improvement!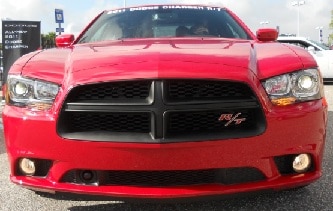 The 2010 Dodge Charger is a nice car.  It does suffer from a somewhat bland interior, but all in all it is a good car that I have had the pleasure of driving several times over the past 6 months.  The Charger has actually become one of my preferred rental vehicles in the Full Size category.  As I was headed to Airport Dodge to view the 2011 version, I pictured small modifications, a few more bells and whistles, but nothing too major.  What I saw in the 2011 Charger knocked my socks off!  The 2011 version is bold and sexy.  It is stylish yet practical.  It is ballsy yet refined.  Simply stated it was a pleasure to drive and exudes a look that will certainly make the brand and model a popular fixture on America's highways in the years to come.
The exterior has seen major modifications in detail with the addition of a scalloped hood and door panels.  The car looks awesome!  Okay, this is Dodge,  and they are known for great lines and bold styling.  It was when I poked my head inside that the real wow factor took hit.  The change is simply stunning!  The dash has been completely redesigned featuring aluminum detailing and soft touch surfaces.  The materials are all top notch.  The fit and finish are clean, and quite simply the words "bland interior" were now on the other side of the planet.  This car is exciting!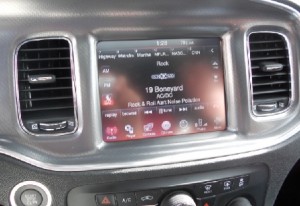 Now let's get down to the nitty gritty that SiriusBuzz fans want to hear.  The Audio system!  Yes, the car has Sirius.  The Hemi Higway model I drove featured an ample 8.4 inch U Connect touch screen monitor that incorporates Sirius, AM, FM, CD, MP3, WMA, rear back up camera, iPod integration, blue tooth connectivity, an SD card slot, Garmin Navigation, and of course Sirius Travel Link.  The user interface is amazingly simple and intuitive.  It is Chrysler's best OEM Sirius capable receiver to date!  All of this great technology comes to your ears through 6 speakers that give a full range of sound power and volume.  This is a car that lets you drop the kids off at school in style then pump up the volume and rock out as you accelerate away.

Sirius fans can now cache up to 30 minutes of audio allowing them to rewind and listen to songs they just heard or missed.  Another great feature is that some capabilities that were once only in plug and play receivers are now making it into the OEM dashboard.  Artist seek is a satellite radio fan favorite and this new Dodge alerts you when your favorite songs or artists are playing on any channel.  The Sirius Travel Link enjoys full integration as well.  Whether you want to see gas prices, movie times, or weather, you have it all at your fingertips.  For the additional few dollars a month it is a feature that will certainly help Sirius XM garner more revenue.
The 2011 Dodge Charger is a site to behold, and a thrill to drive.  From the rear view camera that helps you park, to Adaptive Cruise Control and Blind Spot Monitoring, to the cup holders capable of warming and chilling a beverage, and a fuel efficient yet powerful HEMI engine, it will certainly satisfy a wide range of buyers.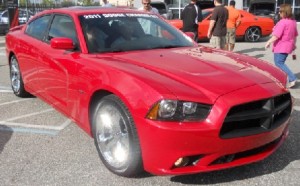 While the cars themselves are impressive, it is the format of the Dodge HEMI HIGHWAY Tour that really tells the story.  Heather and Scott are visiting more than thirty cities in forty days and bringing these fabulous machines to the people.  Many stops include local dealerships where you can get up close and personal with these vehicles.   Heather and Scott are simply two down-to-earth people that can talk technicals with the enthusiasts, while at the same time share an appreciation for details like how a child seat is mounted into the car for that mom who wants a sporty ride.  These two talk to the consumer, not at them.  It is a message that Chrysler and Dodge seem to have taken to heart.  It was consumer comments that brought about many of the changes we are seeing happen in these cars.  With that in mind, Dodge is meeting consumer desires before they become consumer demands.  That is always a great position to be in!
As for the last details you readers may want to know, the Sirius tuner presets for both Heather and Scott include Hair Nation, Faction, Boneyard, and both of them are avid fans of Howard Stern.  For Howard....Heather says you better renew your deal!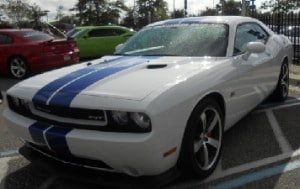 If you are interested in the Hemi Highway Tour or any Dodge product you can catch all of the details at RedLetterDodge.com, the official blog of Dodge.
Stay Tuned for the next installment where I cover the exhilarating 2011 Dodge Challenger! Here is a Sneak Peak.
Position - Long Sirius XM Radio - No affiliation with Chrysler or Dodge