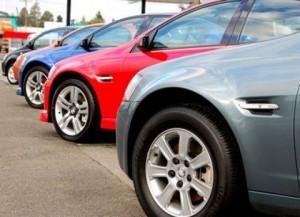 As we all know, auto sales data for October 2012 are in and while there was some impact from Sandy, there are other underlying data points to look at in order to understand how October auto sales relate to SiriusXM (NASDAQ:SIIRI).  The month of October brought in sales of 1,090,521 units.  This number is good enough to allow SiriusXM to report decent numbers for the month, but perhaps not quite as healthy as we would like to see.  It should be understood that mid-year, the SAAR formula changed, it actually delivers a higher SAAR now than what would have been delivered with the older formula.
In point of fact, October auto sales were the second weakest on an actual sales basis.  Only January was weaker.  Even with that, SiriusXM will do fine with the total, especially considering that the used car channel is having an ever more positive impact on the subscriber picture.  One very interesting dynamic in October was the mix of sales.  SiriuisXM gets three types of promotional subscribers from the auto channel.  I call them "Leading", "Point-Of-Sale", and "Trailing".
The Leading category consists of manufactures that have paid promotional subscriptions that are counted in the subscriber data at the time a vehicle is produced.  The Point-Of-Sale category offers paid promotional subscriptions at the time a vehicle is sold.  In contrast, the Trailing category offers unpaid promotional subscriptions that are not counted until after the promotion ends and then only if the consumer elects to keep the service.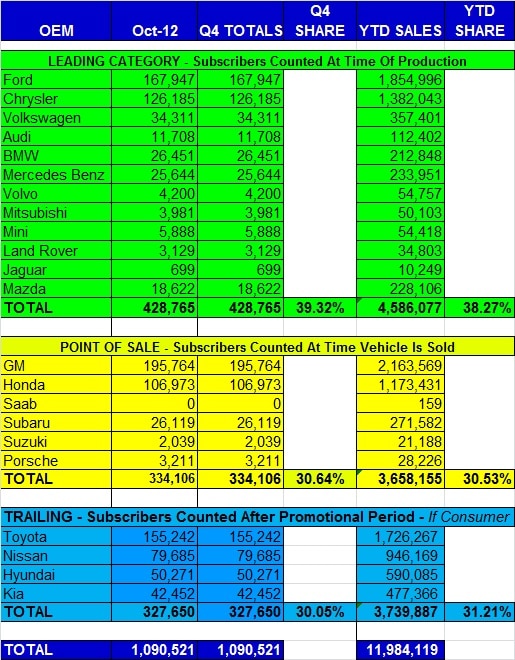 In October we saw the Leading category tick up by about 1.5 points.  We saw the Trailing category lose about 1.5 points.  What this means is that we saw a very slight pull ahead in the subscriber number in Q3, and that we will see a slight depression in Q4 because of a down-tick in the Trailing category.  Functionally the numbers are not huge, so it will not carry a big impact, but there are some things worth noting.
Chrysler, an OEM in the Leading category has seen its inventory swell from the preferred 60 day level to 83 for October.  In September the inventory level for Chrysler was at 64.  Ford, another OEM in the leading category has seen inventory grow from 64 in September to 78 in October.  This could mean that these companies will ease up production at some point which translates to fewer counted subscriptions in Q4.  GM, a Point-of-sale partner is at 98 days inventory.  This may lead to discounting in Q4.  It will be interesting to see if the discounting to drive down inventory by GM is enough to offset the possible slowed production by Chrysler and Ford.  Bear in mind that most OEM's are trying to keep a tight reign on inventory and despite the lack of any real announcements regarding production, the dynamics are setting themselves up for some sort of action.  Almost all imports have very reasonable inventory levels.
The early pace for Q4 auto sales is not quite as strong as we would like to see, but it is not terrible by any stretch either.  With 2 months to go in 2012 auto sales are at 11.984,119.  The street was looking for auto sales for the year to be at about 14.5 million.  This would imply that over the next two months we will need 2.5 million cars sold.  That is certainly possible, but it will be more of a challenge than we previously though.  Already, in November, we are still seeing the auto sector challenged with the aftermath of Superstorm Sandy.  Last year November was very weak, and in fact weaker than October.  If November can deliver 1.1 million, then we will need to see December be the best month of 2012.  At this point 2012 auto sales should be in the neighborhood of 14.4 to 14.6 million.  That 200,000 unit delta will become more clear as we get to mid November.  Stay tuned.