Auto sales for December 2007 have been posted, and the results are not great. Eleven of the brands saw an increase in sales over last year, while twenty-five have seen a decline. Auto sales are important to the satellite radio sector because they represent a large driver for getting consumers to at least experience what satellite radio has to offer. Data from XM indicates that slightly over half of those who experience satellite radio in their car elect to continue the service. While Sirius does not offer take rate data, it appears to be somewhat in line with XM's experience.
The data presented here does not represent satellite radio installations, but rather vehicle sales. The satellite radio partner of each brand is reflected in the data. It should be noted that not all brands are not equal in terms of satellite radio installation penetration. Some auto makers install at a much deeper percentage than others. Also important to note is that not all OEM deals are the same. Among the differences are the length of the initial subscription, the subsidy paid for the installation, monies received for the subscription, and the amount of revenue share paid to each manufacturer. Simply stated, some OEM deals are more profitable than others.
Overall there were nearly 16.2 million cars of major brands sold in the U.S. in 2007.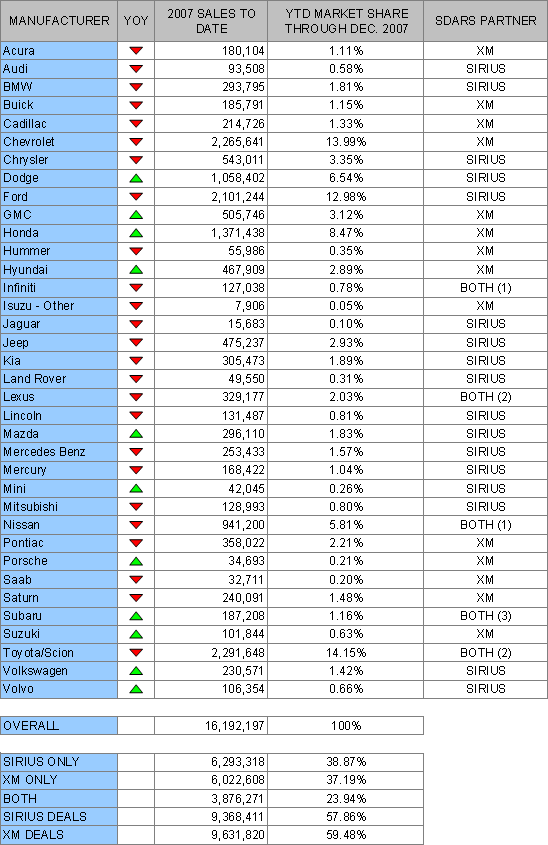 (1) Nissan has a factory install deal with XM and a port/dealer install deal with Sirius. The status of Nissan going into the 2008 model year appears to be only XM. 2007 model year cars are still available at dealers. I have assigned 25% of Nissan/Infiniti sales to Sirius and 75% to XM.
(2) Toyota has a factory install deal with XM and a port/dealer install deal with Sirius
(3) Subaru has a factory install program, by model, with both XM and Sirius
Position – Long Sirius, Long XM, No Position OEM's