The NPD data for December 2007 has been released. The NPD Group is the leading global provider of consumer and retail market research information for a wide range of industries. They provide critical consumer behavior and point-of-sale (POS) information and industry expertise across more industries than any other market research company.
The December now gives retail data for Q4, as well as the whole year. Data shows that overall satellite radio retail sales are still down on a year over year comparison basis. For Sirius December NPD tracked sales were down 36% as compared to December 2006. For XM December NPD tracked sales were down 41%. This translated into sector sales being down 37.5% on a December year over year basis. Sirius has maintained an NPD share advantage for 28 consecutive months.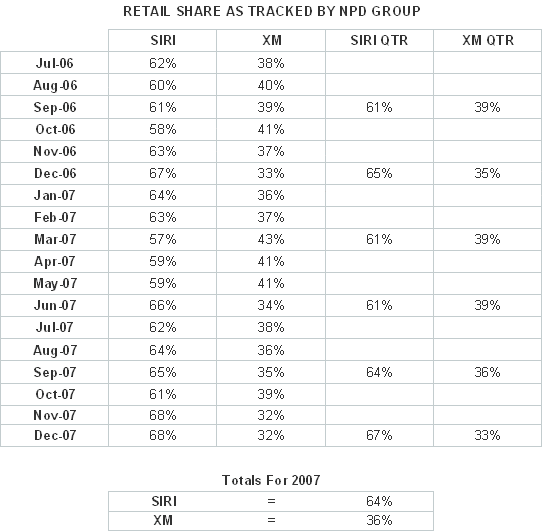 YEAR OVER YEAR COMPARISON (DEC 07 vs. DEC 06)
SIRI - Down 36%
XMSR - DOWN 41%
SECTOR - DOWN 37.5%
MONTH OVER MONTH COMPARISON (DEC 07 vs. NOV 07)
SIRI - UP 268%
XMSR - UP 244%
SECTOR - UP 260%
In all, NPD tracked sales in satellite radio captured a bit over 700,000 less retail sales in 2007 vs. 2006. While this indeed suggests that retail has slowed, there are factors involved that investors in the sector should be aware of.
1. It appears that NPD captured a higher percentage of overall retail category sales in 2006 vs. 2007. This would indicate that sales of non NPD tracked radios, including sales from Sirius and XM directly make up a larger piece of the retail pie for 2007. At a minimum, it appears that satellite radio consumers are getting a bigger percentage of their radio's from non-NPD tracked sources on an overall basis.
2. This trend could be indicative that non-NPD tracked sales have not seen the same decline that NPD tracked sales have seen. Our conversation with one online retailer indicates sales figures in 2007 were as strong as 2006.
3. In particular, XM Satellite Radio had a very aggressive Internet campaign which sent sales to XM directly. Such sales would not be tracked by NPD. Data would seem to indicate that NPD captures a slightly more sales on a percentage basis on Sirius radios over XM. Thus, while the Q4 number for XM on NPD tracked sales was disappointing, they may have had a stronger on line sales number than in the past.
4. Regardless, the 700,000 less units in 2007 vs. 2006 was more than made up for in the OEM channel. This was the case for both Sirius as well as XM.
5. Given what we have seen, XM may report numbers that are better than some anticipate. A lot is dependent on the OEM channel figures, as well as the success of their on line promotions. We will not see a negative retail channel from XM in Q4, as we did in Q3.
Position - Long Sirius, XM