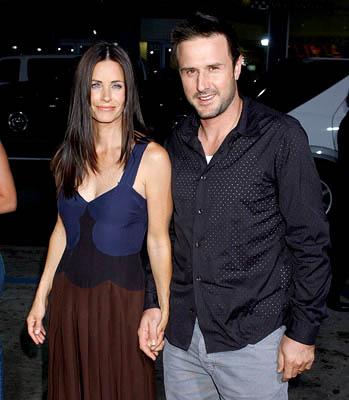 This is the type of radio that has made Howard Stern a legend in the media industry. It is Stern's ability to ask the questions no one else will, to interject humor when appropriate, and to give the guest a comfort level so that they will open up. Howard Stern is simply a master at interviewing and it is the one reason Sirius XM should make every effort to sign the icon to a new deal.
This morning on Howard Stern actor David Arquette announced to the world that he and Courtney Cox, his spouse of 11 years, were officially separated. There has been speculation about troubles in the Arquette/Cox marriage, but this is the first time one of them has come forward and made it official.
Arquette called into the show and bared his soul. He professed his love for Courtney but said that his main concern is that she be happy. Stern pressed Arquette on several issues, and even went so far as to say that he felt there would not be a recovery for the marriage. Arquette has not given up, but carries a deep love for Courtney Cox and wants more than anything to reconcile.
The Hollywood duo have been separated for four months. Both have been the subject of speculation outside the marriage over the past month or two, and Arquette did confirm that he recently had a romantic involvement with someone and that was the reason he finally decided to make the separation public knowledge. He did not want he and Courtney to be caught up in a "cheating" scandal when the the two are already separated with a separation agreement.
Replays of today's show will be running throughout the day on Howard 100 and Howard 101. Even if you are not a Stern fan, the interview is worth listening to. Gems like this interview do not happen all of the time, but Stern seems to bring about "radio gold" more often than anyone. The fact of the matter is that Stern is a major talent and it is difficult to imagine him leaving the air. Stern interviews are timeless. He asks the questions everyone wants to know, but most any other show is afraid to ask. Yes, Stern can sometimes seem insensitive, but at the end of the day he keeps everything real, and does not blow smoke. I think those being interviewed respect that and the audience gets to hear a unique perspective.
How valuable is Stern? He gets the stories that other do not. He gets the interviews that others do not. He has people that want to come to him to share their story. Shows like today demonstrate why Sirius XM needs to sign Stern now.
Position - Long Sirius XM