Investors that were upset about the ratio price that valued SiriusXM shares at $3.68 are probably wishing they could get that price today.  SiriusXM closed the day at $3.43 and is danger of dipping down to levels many thought were ancient history.  One saving grace is that it happened on lower volume.
Make no mistake though.  The technicals are bearish at this time.  It remains my opinion that this equity is range-bound until we hear some sort of news on the Liberty situation.  We are in a danger zone.  If SiriusXM breaks support at $3.42, we could see this equity run down as low as $3.25.  I do not say that lightly.  It is simply something that we have to consider as possible.
What we need to see here is this equity bounce off of the current levels and get above $3.50.  The longer this equity stays in the $3.40's, the more likely that it will break the $3.42 support.
Volume 

Support and Resistance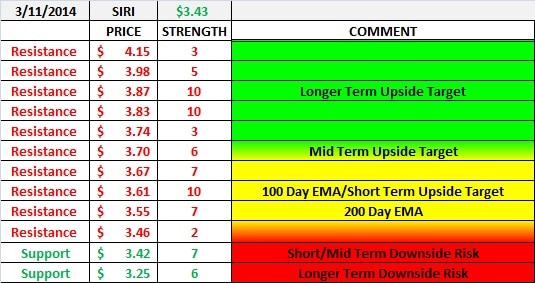 Exponential Moving Averages