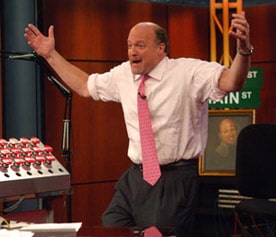 Cramer finally speaks up and tells the Feds to wake the @*%$ up! Well, not literally, but he is calling for the regulators to take action. Cramer mentions in this video segment that if the government is so worried about antitrust, why did it hold only one hearing on the far bigger, far more monopolistic Exxon-Mobil merger? Or how about the Chevron-Texaco deal? He says that the politicians have their pockets filled with terrestrial radio money. As I wrote in a previous post here on Siriusbuzz, the wait for this is absolutely ridiculous. Cramer believes that this is not a monopoly at all. He discusses what we all know, the competition from various media such as IPODS, terrestrial, Internet, etcetera.
Cramer also states that the combined company would have more offerings and pricing plans that have clear benefits for the consumer, which is precisely what the FCC is looking for. Cramer predicts that if the deal is sealed, the cost savings for the combined company will be huge. Sirius, under $3 now, will likely go much, much higher and if the deal breaks apart, Jim said Sirius still works. It's adding more subscribers and is expected to grow sales faster than its rival/partner, XM, even though it has greater operating losses. It's also better prepared to expand outside of the players built into cars, where XM leads. Both are small and unprofitable, but Sirius' higher sales growth makes it the clear winner to Cramer.
Check out clip from Friday's episode of Mad Money.