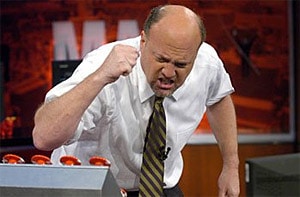 Love him or hate him, Jim Cramer is a widely watched and followed personality in the equity world. Cramer slamming your stock can cause angst, and Cramer boosting your stock can cause celebration. Today on his Lightning Round Cramer gave Sirius investors something to cheer about.
"I think the risk/reward is very good here. ... I am finally, right here, right now, at three bucks, getting behind Sirius Satellite."
As the arbitrage has narrowed, and both Sirius and XM have begun to move upwards, a boost from Jim Cramer could be not only welcomed news, but could actually generate a base for Sirius' stock price provided that the Cramer faithful hop on board. Couple Cramer's latest comments with an anticipated certification by Sirius and XM on the DOJ second request, and we could begin to see some momentum in these equities.
Thanks Muscle13
Position - Long Sirius, Long XM