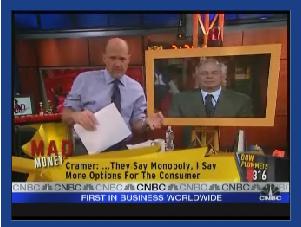 Jim Cramer is still focused on the proposed merger of Sirius and XM. Tonight, he interviewed Rep. Gene Green who was central to a letter against the merger sent to government regulators. Cramer points out that Green has accepted $35,000 from the National Association of Broadcasters and $13,000 from Clear Channel.
Green defends his anti merger stance citing the Direct TV and Echostar merger.
Cramer promises to continue his support for the merger. This is sure to be entertaining to watch over the coming days.
Video of Cramer interview with Green.
Position - Long Sirius, Long XM