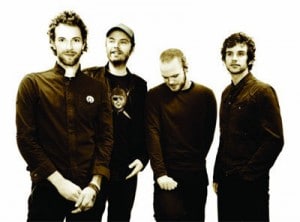 Sirius XM Radio (NASDAQ:SIRI) have announced today that Coldplay band-members Chris Martin, Jonny Buckland, Guy Berryman and Will Champion will sit down for a rare Q&A session with a select group of lucky Sirius XM listeners at the satellite radio company's  studios in New York City.  Unique and exclusive content such as this is one of several factors that separate Sirius XM from traditional and Internet radio offerings.
The special two hour event is being billed as "SiriusXM's Town Hall with Coldplay," and will air live on The Spectrum, channel 28.  The action all starts Wednesday, November 9th at 12:00 pm ET.   The is part the latest installment of SiriusXM's "Town Hall" series, which is an intimate gathering with  iconic musicians and a studio audience of SiriusXM listeners. Previous "SiriusXM Town Hall" specials have featured Bruce Springsteen, the surviving members of Nirvana and Tom Petty.  The "SiriusXM Town Hall with Coldplay" will feature the band answering questions from the live studio audience as well as questions from listeners calling in from around the country.
"This is an unprecedented chance to hear an intimate conversation with one of the world's most popular bands," said Scott Greenstein, President and Chief Content Officer, SiriusXM. "The latest installment of our 'Town Hall' series brings the band and their new album, Mylo Xyloto, to their fans and gives them the rare chance to meet this already legendary group."
All of the great audio entertainment starts on Friday, October 21, when Sirius XM launches "Coldplay Radio," a limited-run channel hosted by the members of Coldplay. The channel will feature music from Mylo Xyloto, the band's latest album, scheduled to be released on October 24, as well as songs spanning the band's career and music by artists selected by Coldplay.  This is not the first time that a band launching an album has partnered with Sirius XM for exclusive content and even a dedicated channel.  "Coldplay Radio" will also include a classic Coldplay performance, recorded in 2000, which will be broadcast as part of SiriusXM's "Live from the BBC Vault" concert series. "Coldplay Radio" will air through Sunday, October 23.
Mylo Xyloto was recorded in London and produced by Markus Dravs (Arcade Fire, Bjork, Mumford and Sons), Daniel Green and Rik Simpson, with enoxification and additional composition by Brian Eno (U2, David Bowie). Coldplay has sold more than 50 million records worldwide and won numerous awards, including seven Grammy® Awards, six Brit Awards and four MTV Video Music Awards. The band's last album, 2008's Viva La Vida, charted at No. 1 in 36 countries, including the United States and the United Kingdom. For more information, please visitcoldplay.com.
The Spectrum plays music spanning the past, present and future. Listeners will hear artists like U2, Dave Matthews, REM, Tom Petty, Coldplay, Wilco, David Gray, Neil Young, Counting Crows, Ryan Adams and more.
Position - Long Sirius XM Satellite Radio