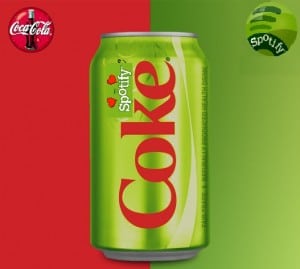 Music is business.  Big Business!  It appears that the new trend is getting into the music business, or at least hitching your proverbial wagon to it!  Rumor has it that Coca Cola is thinking of plunking down some coin and investing into Internet radio giant Spotify.  The two companies are not strangers.  Spotify and Coke started a strategic marketing relationship this past Spring, and it appears that there must have been success because now the beverage giant is looking to invest!
While the rumors are still unconfirmed, the Coke investment appears to be more of a sliver stake than anything material.  However, if Coke is invested into Spotify, odds are that the companies and brands will work together more and more in the future.  These certainly are interesting times as businesses seek alliances, partnerships, and expanded business opportunities.
We have cell companies offering music platforms, companies aligning with social media, and record labels putting muscle behind some services and not others.  It actually seems a bit like the wild west these days, and that means there is no telling which ideas will remain in tact at the end of the day, or if these partnerships and alliances will benefit consumers as much as they do the companies involved.
Clearly, even getting sliver equity from Coke (if it happens) give Spotify some bragging rights and perhaps sets the stage for a landslide of other deals.  Could SiriusXM and Pepsi be far behind?  What about Red Bull and Pandora?  Stay tuned, because audio entertainment is moving in directions that most would not have anticipated!  Coke wants to remain hip and cutting edge.  This deal certainly helps!
via [Billboard]