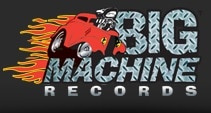 Big Machine Label Group and Clear Channel have joined forces to create Big Machine Radio, a commercial free station that will be featured on Clear Channel's iHeartRadio Internet radio service. This latest move by Clear Channel demonstrates their continued commitment to the concept of Internet radio and being a major force in audio entertainment going forward.
Big Machine Radio will feature hit songs, interviews , rare recordings and exclusive content from Big Machine Label Group's artists. While this may be the first time many have heard of Big Machine, the label has some top tier artists such as Taylor Swift, Martina McBride, Rascal Flatts, Jewel, Reba, the Band Perry and others. As part of the launch listeners will be treated to a preview of new material from Justin Moore's upcoming album "Outlaws Like Me." In addition a Big Machine Radio show, "From the Vaults" program will feature Jewel's 2010 album premiere radio special for "Sweet and Wild."
iHeartRadio is available on the web and through the iHeartRadio mobile and iPad apps. The station offers 750 digital radio stations from 150 cities. It has a number of artist-branded stations, such as Radio Weezer, Christina Aguilera Radio, Linkin Park Radio, Eagles Radio and Sixx Sense with Nikki Sixx.
iHeartRadio has had additional success with the advent of smart phones. It is featured prominently in Toyota's Entune system, and recently purchased Thumbplay in order to offer consumers more Pandora-like features. Clear Channel and their iHeartRadio are already seen as a strong competitor to Sirius XM.
Position – Long Sirius XM Radio