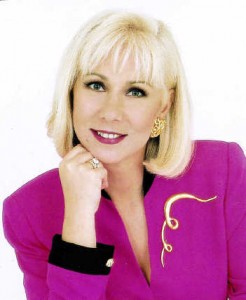 National Latino Broadcasting, LLC. (NLB), one of the companies that received channels in Sirius XM's diversity agreement with the FCC, announced today that they have signed talk show icon Cristina Saralegui to an exclusive contract, and further, plans to launch the Cristina Channel this fall as part of their multi-channel deal with Sirius XM Radio. The new channel is just the beginning on what promises to be a suite of channels dedicated to Latino programming.
Saralegui has had a distinguished career and her entrepreneurial initiatives have made her a household name among US Hispanics. Her show, "Cristina," still remains the most successful Spanish-language talk show in television history. This new phase in Saralegui's career marks her satellite radio debut.
NLB was one company selected by SiriusXM to lease two channels on a long-term basis to air on each of the Sirius and XM satellite radio platforms. The announcement of this channel is an exciting addition to Sirius XM's already impressive overall line-up, and is the latest in what promises to be some compelling Latino programming.
"The Cristina Channel on satellite radio will be a powerful addition to SiriusXM's world-class line-up of iconic talent and channels. NLB is committed to offering compelling programming across its channels, and is proud to welcome Cristina, the most influential name in Spanish media, to its family," said Nelson Albareda, President and CEO of NLB.
The Cristina Channel will offer listeners a wide array of 24/7 programming on a variety of subjects that include news, entertainment, health and beauty, home improvement, family and relationship guidance, travel, political issues and self-empowerment. While the channel will cater to the ever-growing Latino market in general, it will speak directly to multi-generational Latinas across America. Its unique platform of relevant and relatable talk radio will offer SiriusXM listeners inspiration and information daily, fulfilling a niche which has remained untapped in satellite radio up to now.
"I'm thrilled about this new affiliation with NLB," noted Cristina. "I look forward to creating programming on SiriusXM that will entertain, inform and uplift my people."
In the upcoming weeks, NLB will announce the diverse and lively programming line-up for the Cristina Channel as well as its other channel.
Position - Long Sirius XM Radio