Fresh off of the news that Chirs Russo would be leaving the Mike and the Mad Dog Radio Show, Yahoo has searches for Russ on their top 10 for August 18th, showing that Russo has star power when it comes to sports on Radio.
Even Google shows a huge spike in on line searches for Russo. According to Google, most searches came from New York (Russo's Show aired on WFAN in New York), but other states such as New Jersey, Connecticut, Pennsylvania and Massachusetts also had strong results.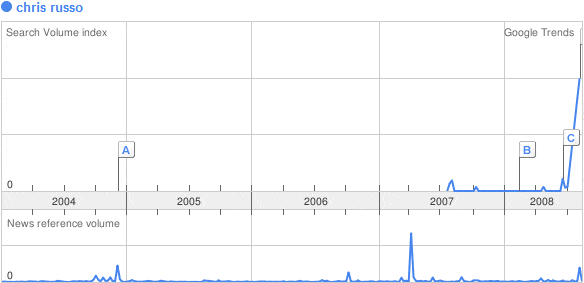 Russo previous show hails from the northeast, and it is the Northeast that has been a hotbed for satellite radio for quite some time. Thus, it is quite possible that even though Russo's show was centered on New York Sports (even though Boston sports are better), that he could transition to a more nationalized scope, and could perhaps even keep his some of his existing New York schtick and go national with it.
At this point, a relationship between Russo and Sirius XM us pure speculation, but the lack of an announced landing spot for Russo could bode well for satellite fans in hopes of seeing Sirius XM sign him. While this may be adding to the speculation, it could be quite possible that, if a deal does exist, it will be launched with the BEST OF programming as well as A-La-Carte. Sirius XM's Mel Karmazin has stated that announcements will be coming after labor Day. In simple terms, I would look for Russo to be the first talent hired by the merged company that will be available to both Sirius and XM legacy receivers.
People want some excitement and promotion of the merger, and an announcement of a talent such as Russo would give the crossover sports programming a cache as we prepare for baseball playoffs and the beginning of football season.
Would Russo be a good addition to Sirius Xm radio? In my opinion he would. He would be a great promotion for the new merged programming, and would add value by drawing from his fan base to become subscribers. While the impact would not equal the Stern Effect, it would indeed help solidify more unique programming for satellite radio.
UPDATE According to a New York Post article published about 45 minutes after this article, Sirius XM Radio has scheduled a press conference for tomorrow morning to announce the addition of a major sports personality.
Thanks to everyone who emailed.
Position - Long SIRI