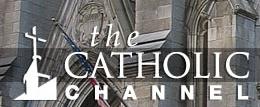 While driving this afternoon I was tuned into Sirius' Jay Thomas show, which as usual was quite entertaining. At one point during the show, Sirius ran an advertisement for the Catholic Channel, and I found the ad to be informative, as well as quite well done. The ad expressed that the Catholic Channel was more than Hallelujah's and Amens. The ad stated that the while Catholic Channel does carry Mass from St. Patrick's Cathedral, they also have family programming, sports programming such as Notre Dame Football, and are even sponsoring a contest involving the NFL's Saints vs. Cardinals game (dubbed the Holy Bowl), where a fan can win a trip to New Orleans to catch the game!
Now, admittedly, I have never listened to the Catholic Channel, and in point of fact am not even Catholic, but the advertisement compelled me to take a few minutes to look up what the channel was all about, and frankly I was quite surprised. The channel has featured comedian Bobby Collins, and Johhny Carson sidekick Ed McMahon. The channel seems to be a blend of tradition and modernism. A mix of heavy talk and lighter talk. A place where people can learn about religion in a non threatening and inviting manner.
This type of programming is one of the staples that makes satellite radio so special. Cross promotion of channels allows listeners to catch a glimpse of something that otherwise would remain unfamiliar, and I feel this is great. For some, religion is a taboo topic. For others, it is a passionate topic. However you feel, having access to such programming is something that we can all be thankful for, and with a merger, the opportunities for additional programming of this type increase.
The point of this piece is not to promote the Catholic Channel, but to show you that no matter which satellite radio service you have, that there is plenty of exploring that a consumer can do, and that as consumers we should consider ourselves lucky to have an audio entertainment medium willing and able to air diverse and fringe content.
As satellite radio fans we should step back and take a moment to celebrate the content that Sirius and XM offer, and further we should consider all of the potential that a merger will bring.
Position - Long Sirius, XM