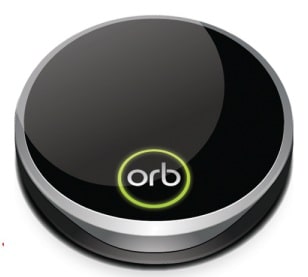 SiriusXM was fairly quiet at the Consumer Electronics Show this year but, that doesn't mean some cool new products related to satellite radio are not kicking around.  In fact, one product in particular, ORB,  comes in at a great price point and offers functionality that SiriusXM subscribers will love.  Have you wanted to stream SiriusXM in your home, but do not want the satellite antenna cable running across your floor?  ORB is your answer!  Would you like the ability to use your iPhone or Android smartphone as a remote control?  ORB is your answer.
The team at TSS-Radio sent over an ORB for some testing and review.  After a quick and easy hook-up I was streaming SiriusXM through my home stereo and controlling the content as well as volume with my smartphone.  The best part was that I was controlling this from anywhere in my home.  Needless to say, I was impressed with the platform, app, and hardware.  What was perhaps more impressive was the price point.
While there are some quality devices out there that allow for streaming, many come with a hefty price tag.  The Logitech Squeezebox and some players from Sonos can cost hundreds of dollars.  In contrast the ORB is just $79.99 at TSS-Radio!  For under $100 you can stream SiriusXM Internet Radio through your home system with relative ease AND use your smartphone to control it all!