This equity is simply in low gear at the moment.  The problem is that you can pick up a little momentum in low gear, but at some point, unless you switch gears, you will wind the engine so high that you will max out potential speed.  Simply stated, you need to switch gears.  This equity has been frustratingly stuck for quite some time now.
What is interesting however is that the near term moving averages are beginning to tighten up.  The 5 day is at $3.16, the 13 day is at $3.17, the 20 day is at $3.18, and the 50 day is at $3.24.  Typically when these near term moving averages tighten up we are bound for a move.  One wrench in the works that stops the equity from getting momentum is that the 100 day EMA is below the 200 day EMA and these are up at $3.35 and just above $3.40 respectively.  The equity is seeming to want to correct the EMA issue, but simply can not wrap its hands around it.
We have strong resistance at $3.23.  This equity needs to take that out and stay above it for several sessions to demonstrate the type of traction needed to go after the 100 day and 200 day EMA's.
What we want to see is a move above $3.25 on 60 million shares or more followed immediately by another move up on another 60 million share day.  Then, as frustrating as it is, we want to see it pause there and hold it.  The company hosted the annual meeting earlier this week, but there was nothing very new introduced there.  I know, that the fundamentals appear sound, but the annual meeting did nothing to bring new information to the table or demonstrate that some possible growth curves may be flattening.  We need demonstrable traction in the business model to show growth potential and at the moment that simply means we need patience.
Volume

Support and Resistance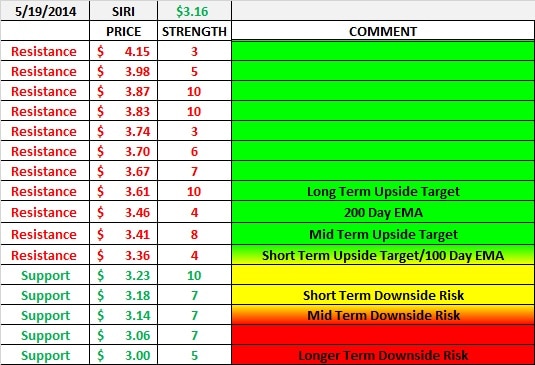 Exponential Moving Averages