When the exponential moving averages contract to a point that they were all on top of each other it usually means that a decent move is in the cards in one direction or another.  Typically that move is simply looking for a catalyst and is based upon news in one form or another.  With SiriusXM upping subscriber guidance and getting ready to report what should be a good quarter, it would have seemed that the stars were aligned to have the break be to the upside.  Instead, we got news that the company lost a legal battle over pre-1972 recordings and the move happened to the downside.
I always try to give the downside exposure.  In essence, I try to give targets that investors should watch for.  SiriusXM broke down slightly, but not so much as to send this equity on a spiral.  We now sit at $3.42 with the EMA chart looking very ugly.  That being said, the EMA's are still pretty tight and there is potential that we can recover.  The risk below is at $3.37.  If that breaks look for $3.31 or so to come into play.  The critical point above is to get over $3.46.  This would get the equity above the 100 day EMA and allow for a chance to see the 100 day EMA get above the 200 day EMA.  That would be bullish.  If there was a time for stock buybacks to support this equity, it is now.
We want to see a move above $3.46 on volume greater than 40 million shares, and preferably greater than 50 million shares.  September auto sales were decent and SiriusXMN announced its intention to appeal the legal issue.  I think that the quarterly report is going to offer surprise.  If this equity can get itself above $3.50 and close to $3.60 leading into the quarterly call, I think it can grow some legs.  The trick is getting to the end of this month with a bullish stance leading into the call.
Volume

Support and Resistance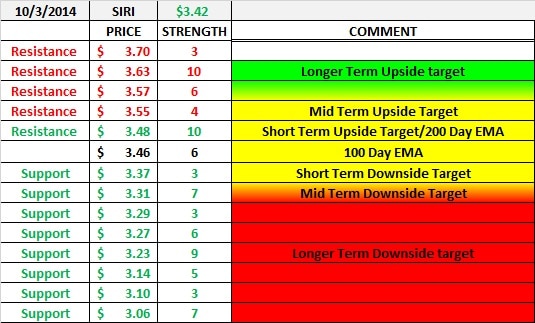 Exponential Moving Averages