Can SiriusXM move up from here?  Is There a ceiling in place because of the ongoing situation with Liberty Media?  Does the silence from SiriusXM have investors on edge?  These are the questions investors are wondering about lately.  The answers are actually quite obvious if you take a moment to consider them.  The answer is that there is a lot of uncertainty, and uncertainty presents limits and caution.
SiriusXM can move up... it is just limited.
There is a ceiling in place because of the Liberty situation.
The silence does have the street on edge.
SiriusXM closed at $3.55 on Friday and did so on lighter than average volume.  What we are seeing here is caution combined with a coiling of the springs.  The EMA's are tightening up.   This is typically indicative of a bolder move getting ready to play out.  On Friday we had a subtle shift.  I had categorized the near term potential as shifting from bearish to neutral on Thursday, and on Friday we saw two caution flags com off of the chart.  This is nothing to get excited about, but I do think it is somewhat telling.  There seems to be a bottom at current levels and the sentiment, while not overly bullish, is that the equity does not really want to go lower.  This is what savvy investors look for, so pay attention over the next couple of sessions.
We want to see the equity maintain here, and if anything move toward that critical resistance level of $3.61.  In my opinion the equity will knock on the proverbial door a few times before marching through.  The march is going to be short lived, but the higher the volume when SiriusXM cracks into the $3.60's, the better.
Volume  

Support and Resistance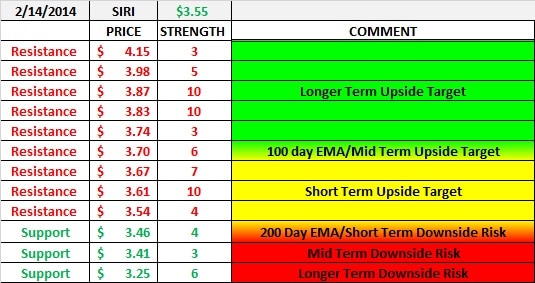 Exponential Moving Averages