Things are looking good for SiriusXM, but the only real issue I see that the volume is not quite what I would hope to see.  Simply stated, the move we have seen does not really have the strength or volume to be much bolder.  That being said, getting to the $3.60's and hanging tough up here is an accomplishment that most people would welcome.
We are in interesting times here.  The 100 day EMA is just a couple of cents below the 200 day EMA.  If SiriusXM can hold the $3.60's this week, we very well might see a crossover.  That should be bullish.  That being said, there is not too much to get excited about in the news regarding this company.  The quarter still has a few weeks left and we will not see financials until the end of October.
In my opinion, seeing moderate volume and remaining in the $3.60 is not a bad place to be.  It lets the equity consolidate here, build a strong base here, and work toward a new leg upward to territory that we have not seen in quite some time.  Keep on top of the news though.  A Liberty move could present itself at any time.
Volume
Support and Resistance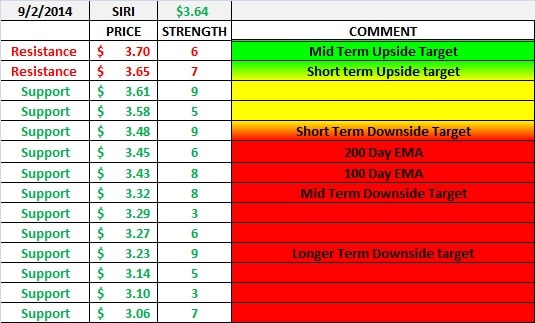 Exponential Moving Averages