After the quarterly call, the SiriusXM equity saw a brief spike up, but failed to take out critical resistance levels and ultimately has settled back down into the $3.30's.  This has set the stage for a proverbial battle of technicals and fundamentals.  From a technical standpoint the equity is bearish in the near term, but showing signs that a potential shift is in the works.  The key areas are $3.32, $3.38, and $3.48.  SiriusXM is trading at about $3.36.
SiriusXM had a decent quarter.  The company reported many positives in the metrics and the overall picture presented showed a company that can be a virtual printing press for money.  That being said, there are also signals that the top-line growth may be flattening out a bit.  What tips the scales to the positive is the ongoing share buybacks.  What could cause hesitation is the situation with Liberty Media.  Having a powerful investor like Liberty can be great when they are "all-in" with the progress of the company.  It can be scary if they decide to pull the plug.  I am not bringing up a pulling of the plug to scare investors.  It is simply something that must be considered.  One of the big questions on the street is the intentions of Liberty Media.
Volume on SiriusXM has picked up a bit in recent days and is approaching more normalized levels.  The company can actually help support the share price with strategic buybacks.  In my opinion this dynamic offers a level of support that would perhaps not exist otherwise.  The recent announcement of another $2 billion will help create a support level for the stock.  That should begin to bolster investor confidence.
Critical support sits at $3.32.  It is important that the company hold this level.  With the 100 day Exponential Moving Average at about $3.37, we want to see this equity maintain current levels and even increase to get above it.  The critical resistance is $3.38 at this stage.  The 5, 13, 20, and 50 day moving averages are all bunched up at $3.37 to $3.39.  If this equity can break through resistance at $3.38, it would also shift the EMA chart substantially.  Typically, when the EMA's are so tight, the equity wants to make a bolder move.  My belief is that the bolder move could be to the upside.  SiriusXM has now tested the high $3.40's several times.  If it can manage to crack the $3.48 level and hold it, we could see a nice upswing.  The first step is cleaning up the EMA chart by getting above $3.38
Volume

Support and Resistance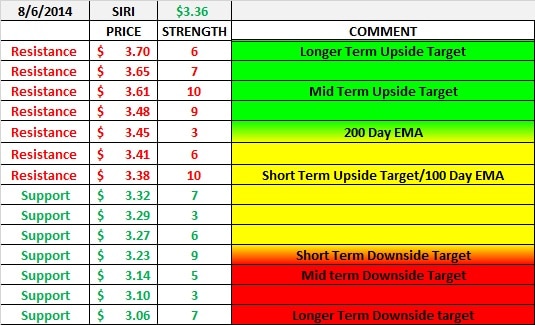 Exponential Moving Averages