I hope all of you had a wonderful holiday.  The markets are open once again, and it is time to get down to business.  SiriusXM was up nicely on Christmas Eve on low volume.  The equity closed at $3.60 and has now managed to eliminate three caution flags.  In normal trading I would call this bullish, but we are dealing with holiday trading.  Those that can handle more risk may see the removal of 3 caution flags as bullish and make a move now.  Those that are more conservative may want to see some confirmation that we are indeed more bullish.
We did manage to cross through the $3.56 level and close well above the 200 day EMA.  That is positive.  If We can hold above $3.60 through the next couple of sessions, I would call it confirmation that we have a small bullish trend developing.  The key here is keeping our eyes on the risk, while not giving up too much in the opportunity.  Watch $3.60 closely and see how the equity reacts at this level.  If it can hold the line and not give up ground, it will be a big positive.  What we want to avoid is the 100 day EMA dipping lower toward the 200 day EMA.  At the moment, the upside goal is simply getting above the 100 day EMA.
You will notice that I still have the downside risk at $3.50 within the trading range, but the upside potential does not yet include the 100 day (the area in yellow).  I want to see this equity hold $3.60 before I get too excited about $3.70.  It will take a little doing prior to getting rid of the first warning flag.  As the averages move up, the first strong bullish signals will evolve.  A close above $3.60 today and tomorrow could bring about a neutral sentiment in the short term.  That is an improvement, but we are not yet off to the races.
Volume

Support and Resistance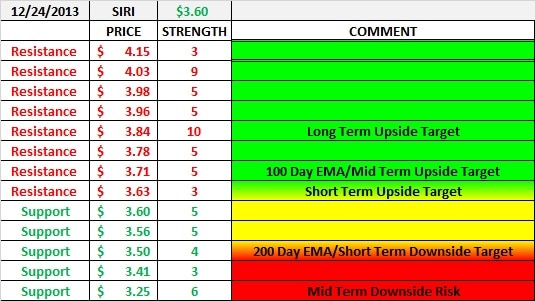 Exponential; Moving Averages