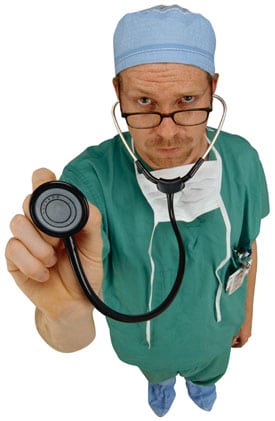 Sirius Satellite Radio announced today that they are launching a groundbreaking Doctor Radio Channel. The full time channel will be dedicated to all things health. Now Sirius listeners can listen to the pulse on channel 9, or talk about their pulse on Doctor Radio.
Doctor Radio, created exclusively in collaboration with NYU Medical Center, will air on SIRIUS channel 119, with an expected launch in early 2008. Doctor Radio will feature more than two dozen respected doctors as regular weekly hosts, many of whom are "teaching" doctors at the NYU School of Medicine, plus physicians and medical experts from around the world as special hosts and guests.
To serve Americans' hunger for health, medical and wellness information, SIRIUS' Doctor Radio will cover the human condition and the complexities of the bodies we inhabit, as well as entertain a little bit along the way. Doctor Radio will give listeners direct access to the best doctors in every field, breaking down barriers between the medical world and the everyday world, and giving listeners information to make important decisions about their health and well-being. NYU Medical Center doctors will take new medical research and findings and translate them into easy-to-understand advice and knowledge in an innovative and new way to better peoples' lives.
Among the diverse array of subjects covered are how to know if you are at risk for a heart attack and high blood pressure; the psychology of everyone from serial killers to college students; what really goes on inside the emergency room and how it compares to television shows like ER and House; what parents can do to cope with children suffering from ADD; stories from the operating room, and why it might be better to hold off on getting that long- awaited nose job; and important things to know before reaching for that Viagra pill on your way to the bedroom. Speaking candidly to address real-life medical matters and scenarios, doctors on the channel will even dissect sports injuries from the past weekend's big games.
"Doctor Radio Powered by NYU Medical Center will be among the most definitive health, medical and wellness resource for people everywhere," said Scott Greenstein, SIRIUS' President, Entertainment and Sports. "For the mere cost of a subscription to SIRIUS, our listeners will receive unique access to some of the best doctors in the privacy and comfort of their own car or home."
"Doctor Radio on SIRIUS represents the wave of the future for personal medical advice and knowledge," said Robert I. Grossman, the Saul J. Farber Dean and CEO of NYU Medical Center. "Every American is affected by medical issues. And so to have NYU's expert team of teaching doctors, and other world- class experts, easily accessible to SIRIUS' diverse national audience represents a level of connection and outreach we could not accomplish any other way."
Doctor Radio will be an advertiser-supported channel, providing a commercial platform on radio for a variety of health, medical, and pharmaceutical companies.