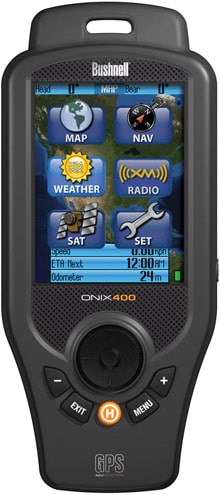 XM Satellite Radio announced today that the Bushnell Onix 400 is now available at many national retailers including Amazon.com, Wal-Mart, REI, Bass Pro Shops, Cabela's, and Gander Mountain. The navigation unit incorporates not only the XM radio service, but can also be used with XM's NavWeather for an additional fee. Retail price of the device is $499
The ONIX 400 is the first handheld to offer XM NavWeather, which is available as stand-alone package or as a premium package coupled with XM Radio. This hand held gadget is the first fully integrated portable device that can simultaneously access GPS location data; XM's 170 plus channels of acclaimed music, sports and entertainment; and XM NavWeather, the first, personalized local real-time weather tracking service in the United States. XM NavWeather also utilizes Threat Matrix(TM) technology to track and provide immediate alerts on developing weather threats, such as rain, hail, tornado and storm warnings.
XM NavWeather transmits detailed nationwide weather information for more than 20 different weather conditions, scaled and customized for the user's specific location and displayed in color on the ONIX 400's GPS mapping screen. XM NavWeather also provides multi-day forecasts based on weather monitoring stations across the U.S.
"Up-to-the-minute environmental condition information is imperative for any outdoorsman," said Roderick MacKenzie, VP, advanced applications, XM. "Now consumers can continuously hold the most intuitive, up-to-date and comprehensive weather data and entertainment content in the palm of their hands."
XM NavWeather was developed with Baron Services and utilizes Baron's exclusive Threat Matrix technology. Baron Services is also XM's weather partner for its award-winning XM WX Satellite Weather, a trusted information source for professional pilots and mariners. XM NavWeather builds upon the success of this professional grade service by providing a "consumer friendly" interpretation of the dynamic weather data direct to the ONIX 400's display screen.
Stand alone XM NavWeather - $9.95 per month
XM NavWeather plus with XM Radio - $16.94 total per month
Position - Long XM